Our favorite show on television, "How I Met Your Mother" will be airing its last episode on March 31, much sooner than anyone expected.
Our favorite show on television, "How I Met Your Mother" will be airing its last episode on March 31.
Show co-creator, Carter Bays broke the news about the 'last #HIMYM forever' on Twitter.
Monday, March 31st, 2014. Last #HIMYM forever.

— Carter Bays (@CarterBays) December 19, 2013
No matter how much people talked about them dragging the show, now that it is ending, we are sad. And we know that we'll miss Ted, Marshall, Lily, Robin and Barney a lot.
But the good news is that Ted will finally be getting married!
As HIMYM is about to say goodbye to its fans, here we have put together some fun facts you might not know about the show.
Check out these legendary facts!
1. Neil Patrick Haris' character, Barney Stinson is named after a heroin dealer from James Ellroy's book, L.A. Confidential.
2. MacLaren's Pub is named after the Associate Producer on the show Carl Maclaren.
3. Cobie Smulders who plays Robin Scherbatsky in HIMYM, is actually from Canada!
4. To this day, no one knows what Barney's actual job is.
5. Lily i.e. Alyson Hannigan was pregnant while filming many season 4 episodes.
6. Cobie Smulders also discovered that she was also pregnant in the same season.
7. During season 7, Conan O'Brien made a cameo appearance on the show.
8. Character Sandy Rivers (an anchor at Metro News 1), Blauman (an employee at Goliath National Bank), and Scooter (Lily's boyfriend in high school) are real partners of Alyson Hannigan, Colbie Smulders, and Neil Patrick Harris, respectively.
9. Ted has actually dated around 29 women who aren't the mother!
10. Books related to HIMYM have actually been published including 'The Bro Code' and 'The Playbook'.
11. All the scenes of Ted's kids were filmed during season 1.
12. NPH makes $210,000 per episode and rest of the cast makes $120,000 per episode.
The show is definitely legen-wait-for-it-dary.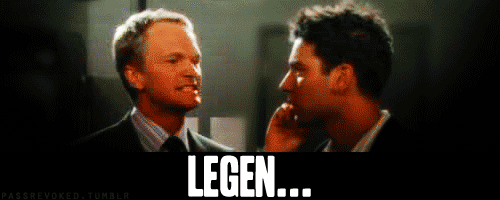 And we are going to miss these guys a lot.
Someone please give me a tissue paper now!
Carbonated.TV