It's Monday morning and you still haven't recovered from the Cinco de Mayo fiesta (fiestas?) Here is a guide to help you feel better asap.
Heartily celebrated on May 5th, in both Mexico and the US, The Day of the Battle of Puebla heralds Mexican culture and the country's historic battle for freedom and democracy. Most commonly referred to as "Cinco de Mayo", this day of remembrance and pride often brings about all-day events such as backyard cookouts, picnics and barbeques in the park, and other festivities. However traditional the festivities may be, an even greater tradition reigns supreme in many of these celebrations: Drinking (and the unfortunate consequences).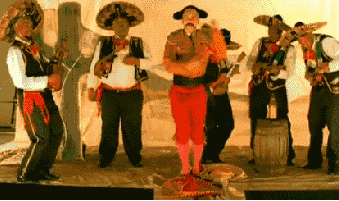 After an uproarious Cinco de Mayo celebration with friends and family, returning to work the next day can take a toll on your otherwise pristine digestive system... among other things. To ease the inevitable hangover and get you back into tip-top, working order here are a few quick post-Cinco de Mayo hangover cures you can quickly apply before your morning commute:
Hydrate yourself, as water is the cure for what ails you. The last thing you may want to do is pour more fluid into your body that feels about as stable as a rowboat in a rolling sea but alas you must drink water. Not only will plenty of water keep you hydrated, the queasiness in your stomach (caused by dehydration) will be eased. NOTE: If you can remember to drink water after your day of Cinco de Mayo drinking before going to bed, do so to avoid a painful morning.

If you can't eat solid foods the morning after Cinco de Mayo, drink fruit juice. Having an upset stomach is a common hangover symptom but one that can be remedied without complication. Give yourself some nourishment with a blend of fruits and veggies.

Here's one you may not want to hear: Exercise is going to help you ease the stomach pangs. Roughly twenty to thirty minutes of exercise will be enough to get your body back into it's normal focused-at-work groove. In conjunction with drinking plenty of water and a hearty liquid juice breakfast, exercising is the way to go post-Cinco de Mayo.
As you're reading this, you may already be in your cubicle or hiding in your car for an extended bathroom break wishing you had a big bottle of painkillers. Beware: painkillers will overwork your liver, especially since alcohol has been filtered through it. Worry not! Follow the above tips, and you'll feel much better by the afternoon.
Here's to you having a Happy and Safe Post-Cinco de Mayo!
Carbonated.TV