Severe weather tore across the Southeast early Monday, killing at least two people and spreading damage through at least two states, emergency officials said.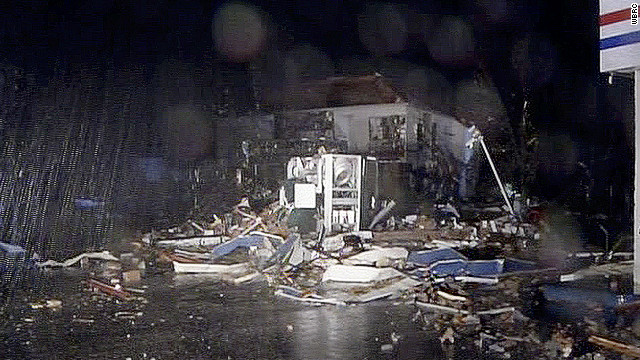 Severe weather tore across the Southeast early Monday, killing at least two people and spreading damage through at least two states, emergency officials said.

The two fatalities were reported near Birmingham, Alabama, according to Jefferson County sheriff's Sgt. Jack Self.

One was a 16-year-old male in the city of Clay, northeast of the city, and the second was an 82-year-old man in the Oak Grove community west of Birmingham, Self said. Authorities believe the same storm, which struck about 3:30 a.m. (4:30 a.m. ET), was responsible, he said.

At least 100 injuries have been reported, from cuts and bruises to broken bones, Self said. Several homes were reported destroyed.

Emergency crews were working to locate people who may be trapped or injured and clear roads, several of which were impassable, the sheriff's office said.

Video from the Center Point area, northeast of Birmingham near Clay, showed numerous downed trees, some on top of homes. People had to step over trees as they made their way down a residential street.

One local resident told CNN affiliate WVTM he and his family had sought shelter in his home's basement when the house's front door came "flying by us. We made it just in the nick of time."

The man, who was not identified, grew emotional as he told the station, "We've lost our house, but at least ... we've got our family, and that's all that matters right now."

A picture posted on Twitter, purportedly from a Clay neighborhood, showed at least one building reduced to rubble.

Damage was also reported near Tuscaloosa -- which was devastated by a tornado nine months ago -- as well as south of Birmingham, officials said.

Three reports of "minor structural damage" were received, said David Hartin of the Tuscaloosa County emergency management agency. The majority of reports concerned downed trees and power lines north of Tuscaloosa, he said. Hartin said he was not aware of any injuries.

Damage was also reported in Perry and Chilton counties in the central part of the state. In the Chilton County town of Maplesville, the National Weather service said there were reports of "major structural damage" with people trapped in homes.

As of 7 a.m. (8 a.m. ET), about 36,300 customers remained without power across Alabama, Alabama Power said on Twitter. Of those, 30,000 were in metropolitan Birmingham and just under 3,000 near Clanton in central Alabama.

The outages peaked about 5 a.m. at 45,400, Alabama Power spokeswoman Hallie Bradley said. Utility poles and power lines were reported down.

A tornado watch remained in effect for much of central Alabama until 10 a.m.

Schools in Tuscaloosa city and county were canceled Monday, the city said on Twitter. Jefferson County schools were also closed, according to the sheriff's office. Schools in several other locations near Birmingham were also closed Monday, according to CNN affiliate WBRC.

Tuscaloosa was devastated by an EF-5 tornado in April 2011. An EF-5 is at the extreme end of the tornado classification scale, with winds of more than 200 mph.

The twister was part of a record-breaking tornado outbreak -- 178 tornadoes over April 27-28, the largest recorded tornado outbreak in U.S. history. In Tuscaloosa and Birmingham, 61 people died in the EF-5 tornado on April 27. At least 243 people were killed by twisters statewide, and 39 of Alabama's 67 counties were designated for disaster assistance.

Asked whether the new storms posed a setback to rebuilding efforts, Hartin said he did not believe it would. "There's a lot of building going on," he said.

The Oak Grove community was hit hard by a tornado in April 1998. Thirty-two people were killed in Jefferson County and two more in St. Clair County in that storm, according to the National Weather Service.

In Arkansas, at least one person was hurt Monday when a possible tornado touched down on the northern edge of Fordyce, in south-central Arkansas. Five or six homes were destroyed, and another 10 or 11 were moderately to severely damaged, said Jim Johnson of the Dallas County, Arkansas, emergency management office.

"I've seen enough of these -- I'm sure it was a tornado," Johnson said.

One person who sustained minor injuries was treated and released at a hospital, Johnson said. Another woman was trapped in her home briefly, but she was not hurt, he said.

The rough weather prompted authorities to close four roads, but crews were working to clear and reopen them, Johnson said. Power outages, which peaked at 3,700, were down to about 1,300 just before daybreak, he said.

Fordyce Mayor John MacNichol told CNN affiliate KATV that outages were widespread and not concentrated just in the Fordyce area.

While he said he was dreading a damage assessment after the sun rose, MacNichol said he was "tickled that nobody got seriously hurt."

Possible tornadoes were also reported in Mississippi and Tennessee, according to the National Weather Service.