British politicians began unfamiliar wrangling behind closed doors Friday to form a new government after a hard-fought election that denied an outright majority to any single party, creating the first hung Parliament in decades.
British politicians began unfamiliar wrangling behind closed doors Friday to form a new government after a hard-fought election that denied an outright majority to any single party, creating the first hung Parliament in decades.With nearly all the votes counted, the opposition Conservatives were set to win by far the largest number of seats, bringing an abrupt end to 13 years of Labour's majority but offering no clear vision of the future. Both major parties began trying to lure the third-place Liberal Democrats into some form of governing alliance.

David Cameron, the Conservative leader, made what he called a "big, open and comprehensive offer" to the Liberal Democrat leader, Nick Clegg, seeking his support for either a minority Conservative government or a more formal alliance.

Prime Minister Gordon Brown, whose Labour Party sustained damaging losses, signaled that he would not immediately step down, even though his party lost its majority, shedding at least 91 seats in the House of Commons while the opposition Conservatives surged ahead with a 97-seat gain. But, Mr. Brown said, he would welcome discussions with other party leaders, including Mr. Clegg, if the Liberal Democrats failed to strike a deal with the Conservatives.

"It is my duty as prime minister to take all steps to ensure Britain has a strong, stable and principled government," Mr. Brown said Friday, adding that he had asked senior civil servants to assist all the parties in talks to devise an exit from the impasse, the first of its kind since 1974.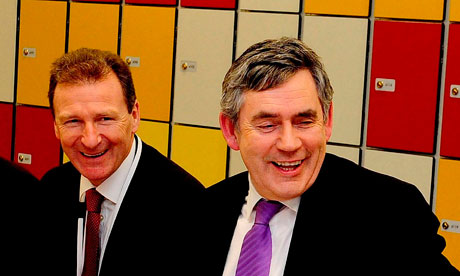 Although the Liberal Democrats failed to make the gains forecast before the vote on Thursday, they still seem set to play a pivotal role in the interparty negotiations to form a new government. The political minuet between the party leaders — common in parts of continental Europe where coalitions are the norm, but rare in Britain's political culture — began when Mr. Clegg said he believed Mr. Cameron should have the first right to form a government.

Then Mr. Brown appeared outside 10 Downing Street — the prime ministerial residence and seat of power — to offer an alliance with Mr. Clegg based on a shared approach to the country's economic crisis and to reforms in the voting system, a central demand of the Liberal Democrats.

Mr. Brown stressed that he was speaking as prime minister, underscoring his continued claim to office, despite his poor showing in the polls.

Finally, Mr. Cameron delivered a statement that offered some concessions — but not guarantees — to the Liberal Democrats on economic measures and electoral reform, while making clear that Conservatives disagreed with their potential allies on other matters such as immigration, the relationship with Europe and defense.

"I hope we can get agreement quickly," he said.

Mr. Clegg made no immediate response but he was expected to talk later to Mr. Cameron by telephone.

Under British procedures, parties with a plurality of the votes, like the Conservatives, may form a minority government, as happened in the 1970s, but the rules also permit the incumbent prime minister to remain in office and try to negotiate an alliance.

Any new government must be able to withstand an early confidence vote in Parliament.

By late afternoon on Friday, with only one of the 650 constituency results still to be declared, the Conservatives had gained 97 parliamentary seats, Labour had lost 91, and the Liberal Democrats were down by 5 seats compared with the 2005 vote. The Conservatives won an estimated 36.1 percent of the ballot compared with 29.1 percent for Labour and 23.0 percent for the Liberal Democrats.
The result gave the Conservatives 306 seats, Labour 258 and the Liberal Democrats an unexpectedly low 57. In the single, outstanding constituency, in North Yorkshire, the vote was postponed because of the death of a candidate. The final figures were remarkably close to an exit poll just after voting came to end at 10 p.m. Thursday. But that time, many analysts were skeptical of those figures.

Throughout the night and all day Friday, though, as the results emerged, the collapse of the Liberal Democrat challenge to Britain's two-party established ordered became clear even as the evidence mounted that voters had recast a political tradition of clear majorities.

The electoral math seemed to have left even the most experienced politicians baffled about the message from the voters. "The public have turned a page, but it's not clear what chapter they want to open," said Peter Mandelson, the Labour Party's chief strategist.

The uncertainty helped drive the British pound to $1.46, its lowest level against the dollar in over a year.

The result left both major parties claiming some kind of legitimacy to form a new government, Mr. Brown citing precedent and protocol allowing the incumbent to seek a new alliance, as the former Conservative Edward Heath did in 1974. But after a weekend of contacts, he failed, allowing Labour under Harold Wilson to create a minority government.

Many political analysts recalled Friday that, in post-war Britain at least, minority governments had been relatively short-lived, usually leading to new elections within a matter of months.As he won re-election in his Oxfordshire constituency, Mr. Cameron said his party appeared likely to gain more seats than in any election in 80 years, and he was unsparing in his remarks about Labour."I believe it's already clear that Labour has lost its mandate to govern," he said.

Nonetheless, a long line of powerful Labour figures appeared on television to set out what appeared to be an orchestrated rationale for hanging on to power.

Victorious in his Scottish constituency with an increased majority, Mr. Brown "far-reaching reforms to our political system" — apparently an overture to the Liberal Democrats who have made electoral reform a non-negotiable condition for partnership with other, larger parties.

During the election campaign, Mr. Clegg, the Liberal Democrat leader, took strong exception to the idea that Mr. Brown might continue to, as he put it, "squat" in 10 Downing Street, if he lost the election, prompting speculation that he would be more prepared to ally himself with Labour if it ousted Mr. Brown in favor of another leader.

Voting patterns seemed to reflect what Paddy Ashdown, a former Liberal Democrat leader, called a "muddled" situation after the vote.

Results showed a sharp swing from Labour to the Conservatives in seats in northern England that had been Labour strongholds for decades, with voter shifts from one party to the other that ranged from 5 to 11 percent. And early returns from central and southern England suggested a similarly strong shift to the Conservatives — in some cases as high as 10 percent — that raised, at least briefly, Conservative hopes of gaining a clear majority.
But the overall picture was spotty, with the Conservatives not posting the consistent gains across the country that they needed, and with the Labour vote holding up far better in some areas, especially Scotland, than in others. Notably, the Conservatives failed to win several seats that were high on a list of 116 that they identified as the most promising targets.

Perhaps the biggest surprise was the lackluster performance of the Liberal Democrats, who failed to make the major breakthrough that many had expected after the show-stealing performance of Mr. Clegg, the party leader, in three televised election debates that were the centerpiece of the campaign.

One count, in Northern Ireland, was suspended because of a bomb scare, a reminder of the decades of sectarian violence that raged before the Good Friday peace agreement of 1998 that the Labour government counts as one of its major achievements.
In dozens of other seats, voters gathered angrily outside polling stations after officials shut the doors as the voting hours expired with hundreds of would-be voters still waiting in line. The BBC said that the national turnout appeared to have been substantially higher than in the last election, in 2005, when barely 61 percent of an electorate of about 45 million people cast ballots.
Source : nytimes