In debates, candidates have failed to address the needs of people with disabilities. Twitter #CripTheVote raises awareness and helps empower disabled voters.
#CripTheVote | Live Twitter Chat | See| Action Archive https://t.co/ocROgzpiSX via @dlbllc @DisVisibility pic.twitter.com/ZK44pLxLxr

— Darren Bates (@DLBLLC) February 12, 2016
As the primary candidates fight for voting blocs, they keep forgetting one huge group of voters – the 20 percent of Americans who live with disabilities. #CripTheVote wants to change that.
Read More: What You Need To Know About Super Tuesday
The movement's founders — Alice Wong, Andrew Pulrang, and Gregg Beratan — were dismayed when, debate after debate, no candidate even mentioned the issues important to them. They decided to act, starting the Twitter hashtag #CripTheVote. They aim to "engage both voters and politicians in a productive discussion about disability issues in the United States, with the hope that Disability takes on greater prominence within the American political landscape." Their main activity is pre-debate Twitter chats, which begin an hour before each major debate. In addition, the hashtag and Facebook page help foster community among disabled voters and their advocates.
Read More: Donald Trump Mocks NYT Reporter Suffering from Rare Physical Disorder
#CripTheVote founders insist that disability issues are not merely a niche concern or a partisan issue; one in five Americans lives with a disability, and failure to address their needs has negative repercussions for the nation as a whole. The movement aims to empower disabled voters of any political persuasion. Wong laments that disability rights have been pigeonholed as a "liberal" agenda. "Disability rights and equality in general isn't a partisan issue," she told ThinkProgress, "especially when it comes to respecting basic human rights." She points out that the Americans with Disabilities Act was signed by conservatives' own darling, Ronald Reagan.
Wong explains that disability affects nearly every major issue in the primaries — economy, health care, education, gun control, homelessness, and so on. For example, people with disabilities are twice as likely to be unemployed. They also have a vital stake in health care reforms. Law enforcement, too, needs to take disabilities into consideration. According to Wong, police often mishandle incidents involving disabled people, simply because they do not understand.
Besides feeling disenfranchised in the political debates, many disabled people find voting a challenge. Physically getting to the polls can be difficult for some, and for others even mail-in ballots are not easy. #CripTheVote offers resources to help these citizens get involved and encourages them to cast their votes.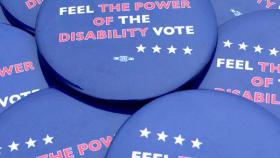 While many people living with disabilities have found #CripTheVote helpful and empowering, others are repelled by the avant-garde name. It's catchy and draws attention, but the use of a derogatory term like "cripple" understandably raises some eyebrows. Beratan explains the logic behind the tag: "Crip is about reclaiming the language of oppression as a positive."
A1: I've not gotten behind #CripTheVote. The messaging is unfortunate and strengthens stereotypes. #axschat https://t.co/tYVWWouI8G

— Magnus Hedemark (@Magnus919) March 1, 2016
@GreggBeratan Personally, I'm a fan of the language, the work being done and the organizers. #CripTheVote #axschat@cldbrand @StargardtEyes

— Eb (@erabrand) March 1, 2016
Questions of name aside, #CripTheVote is doing important work. It highlights a major omission in the American political scene and gives a voice to an underrepresented population.
Banner Image Credit: Reuters
Carbonated.TV