(CNN)

U.S. Secretary of State Hillary Rodham Clinton says it's critical for the independence referendum in southern Sudan to be held on time, warning that a return to civil war is an ""unacceptable alternative.""

Clinton told the U.N. Security Council on Tuesday that there is ""a huge amount of work to be done"" before the Jan. 9 vote on whether South Sudan with become an independent nation or remain in a united Sudan.

Clinton offered the Sudanese government a ""dramatically different"" relationship with the United States if the referendum is successfully conducted and its outcome respected. The government must also show it is committed to a peaceful solution to the separate conflict in Darfur, she said.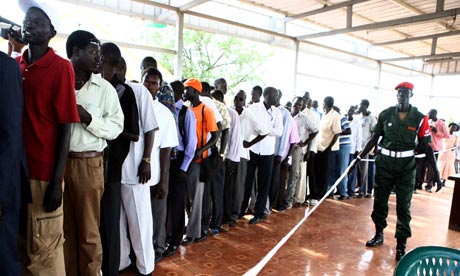 Secretary of State Hillary Clinton told the United Nations Security Council Tuesday that it will take "courage and skill" for Sudan's leaders to implement the Comprehensive Peace Agreement, but stressed that no outsider can dictate events on the ground.

"The world expects these steps, and the courage to change will be rewarded by the international community and the United States," Clinton said.

Clinton's comments come in the midst of a massive voter registration effort for a January referendum that would allow the East African nation's autonomous southern region to secede from the north. The referendum is considered a possible make-or-break event in the 2005 peace agreement, which ended the two-decade conflict that lead to the deaths of 2 million people in Sudan.

The peace agreement also calls for a separate referendum for residents of Abyei, a border area that has oil reserves, to decide if they want to join the north or south. The southern region holds a majority of the nation's oil.

"Holding this referendum and resolving the status of Abyei represent the promise of self-determination made to the Sudanese people," Clinton said. "They are promises that must be kept."

The vote also could be a factor as U.S. officials decide whether to remove Sudan from its list of state sponsors of terrorism. Earlier this month, the Obama administration told Sudanese officials that the United States would drop the country from the list in 2011 if President Omar al-Bashir's government recognizes the referendum results, senior State Department officials said.
"If the government of Sudan commits to a peaceful resolution of the conflict in Darfur, and as it takes other steps toward peace and accountability, the Obama administration is prepared to offer Sudan a path to end U.S. sanctions, work toward international debt relief, increase trade and investment, and forge a mutually beneficial relationship," Clinton said.

Darfur, in western Sudan, has been beset by conflict since 2003 after rebels began an uprising against the Sudanese government. To counter the rebels, Arab militias with ties to the Sudanese government went from village to village in Darfur, killing, torturing and raping residents there, according to the United Nations, Western governments and human rights organizations. The militias targeted civilian members of tribes from which the rebels drew strength.

The United Nations estimates that 300,000 people have been killed in the conflict in Darfur, and 2.5 million have fled their homes. Sudan denies the death toll is that high.

Clinton said Tuesday that the United States remains "deeply concerned" about Darfur.

"Violence is intensifying, human rights violations continue, arms flow despite the embargo. Journalists and activists are arrested, some merely for speaking to members of this Security Council. U.N. peacekeepers are kidnapped. This is unacceptable," Clinton said.

The president of the Security Council told members that the situation in Sudan represents "one of the most urgent challenges facing the Council."

The referendum is scheduled for January 9.




Source: cnn