Mainstream pro-European parties look set to dominate a Dutch general election on Wednesday, dispelling concerns that radical eurosceptics might gain sway in a core euro zone state and push to quit the European Union or flout its budget rules.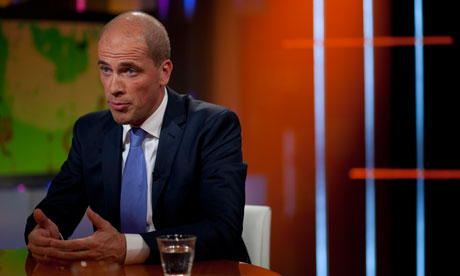 Mainstream pro-European parties look set to dominate a Dutch general election on Wednesday, dispelling concerns that radical eurosceptics might gain sway in a core euro zone state and push to quit the European Union or flout its budget rules.

But the Netherlands is likely to remain an awkward, tough-talking member of the single currency area, strongly resisting transfers to euro zone debtors, regardless of whether caretaker Prime Minister Mark Rutte's Liberals or the centre-left Labour Party of Diederik Samsom win the most seats.

Last-minute polls on Tuesday showed the two parties neck and neck on 36 seats each or the Liberals fractionally in front, with the hard-left Socialists and the far-right anti-immigration Freedom Party fading in third and fourth place respectively.

That makes it more likely, though not certain, that Rutte, with the strongest international profile, will stay as premier.

The final days of campaigning turned into a two-horse race between the always-smiling Rutte, 45, a former Unilever human resources manager dubbed the "teflon" prime minister because of his ability to brush off disasters, and the energetic Samsom, 41, an ex-Greenpeace activist whose debating flair wowed voters.

Both parties have played down talk that they will end up in coalition, together with one or two smaller parties, but parliamentary arithmetic suggests that is the most probable outcome given a highly fragmented political landscape.

About a fifth of the 12.5 million voters say they are still undecided, leaving room for surprises.

The Netherlands is one of the few triple-A rated countries left in Europe and a longstanding ally of Germany in demanding strict adherence to fiscal discipline. The vote is seen as a barometer of northern European stamina both for austerity and for bailouts to keep the single currency bloc intact.

Thrifty Dutch taxpayers are frustrated by demands for belt-tightening at home, particularly the steady erosion of their cherished welfare state and pensions, while stumping up billions of euros to rescue what they see as profligate budget sinners.

"People have become negative about Europe because we give so much money to Greece and other countries and at the same time we are aware of the fact that we badly need money here to pay for schools, for the army and everything," Jaap Paauwe, a professor of management at Tilburg University, told Reuters.

"VOTE FOR YOUR JOB"

With the focus on the euro zone crisis and its impact on the domestic economy, Europe took centre-stage during the campaign.

Employers' groups representing big businesses such as consumer electronics giant Philips as well as small and medium-sized firms that form the backbone of the economy ran a campaign highlighting the benefits of EU membership.

The main employers' group hung a banner outside its head office in The Hague proclaiming: "Vote for Europe and your job."

In a pamphlet distributed to voters entitled "The Netherlands earns its living from Europe", business groups said the export-dependent economy would lose 90 billion euros a year in sales without the euro and the EU's internal market.

In contrast, one of the biggest unions posted a cartoon on website showing the electoral battleground as the Last Chance Saloon with caricatures of Rutte and his allies stalking the saloon bars in the Wild West.

Fears over Europe initially played in favor of the two main populist parties, particularly the hard-left Socialist Party which only a month ago was either leading or a close second in the opinion polls.

The Socialists have waned largely because of the dismal showing of their leader Emile Roemer, a former schoolteacher, in an almost nightly marathon of television debates.

Geert Wilders, the bottle-blond leader of the anti-Islam Freedom Party which is calling for the Netherlands to quit the euro and the EU, has also lost support.

Some of his followers are disappointed that he squandered his real power as Rutte's chief ally in parliament when he brought down the government in April by refusing to support another package of budget cuts.

Wilders wanted to turn the election into a referendum on Dutch membership of the euro and EU, denouncing the heavy burden carried by Henk and Ingrid, his Dutch stereotypes of Mr and Mrs Average. His campaign was damaged when a real-life Henk with a wife called Ingrid attacked and killed an immigrant.

TRIBAL VOTING

Until the 1990s, party allegiance in the Netherlands was almost tribal, with political families rooted in religion, intellectual or working-class background, each with a network of schools, universities, sports clubs and newspapers.

But that so-called pillar model has been breaking down over the past half-dozen elections, with the political landscape splintering as more extreme versions of the main parties arise.

Wilders split off from the right-leaning Liberals to form his Freedom Party, while the hard-left Socialist Party emerged from a tiny Maoist group to rival Labour, which opposes austerity measures and has voted against euro zone bailouts.

Even the centrist GreenLeft Party has spawned an alter ego, in the Party for the Animals.

The latest polls suggest voters have been coaxed back into the centre.

Marijke Jongbloed, a documentary maker, told Reuters she normally voted for the Socialist Party (SP), but would probably vote Labour this time.

"I do support the SP but for premier I would vote for Diederik Samsom, he's more cosmopolitan and more on the ball, and these days you have to mix and mingle with European leaders, schmoozing them, and I think Samsom is a little bit more savvy in this respect," she said.

Her main concern is the steady erosion of the welfare state.

"The VVD (Liberal Party) is wonderful for entrepreneurs and if you have a big villa, and a big bank account. But the little people only think they are well off. And now everybody is talking about cutbacks, cutbacks, cutbacks, so it creates a very negative atmosphere."