(HUFFINGTONPOST)

Hospital officials say that Giffords underwent surgery Saturday morning to have a tube inserted in her windpipe to protect her airways. She had been breathing on her own since she was shot in the head Jan. 8, but doctors had left the breathing tube in as a precaution.

Doctors also inserted a feeding tube. These procedures are not out of the ordinary for brain-injured patients.

Giffords, who was wounded in last weekend's attack that killed six people, remains in critical condition.

Her husband, astronaut Mark Kelly, has remained by her bedside.
NYDAILYNEWS


Gabrielle Giffords continued to make good progress on Saturday.

A week after the shooting that left six dead and 14 wounded, doctors removed the Congresswoman's breathing tube, freeing her from the ventilator.

Doctors will also soon be able to see if the Congresswoman can speak.

Giffords, who has been breathing on her own since the shooting, had the tube inserted as a precaution and still remains in critical condition.

"Her recovery continues as planned," the hospital said in a statement.

The news came hours after the Safeway where the massacre took place was reopened following a somber moment of silence.

"While our store has been closed, we've been working to make sure our employees are getting the support they need to begin to recover from what happened in their workplace," Safeway said in a full-page advertisement in the Thursday edition of the Arizona Daily Star.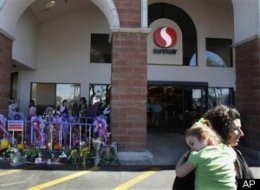 Another one of the shooting victims was also released from the hospital on Saturday.

For Giffords, it was just the latest step in what doctors have continuously called an encouraging recovery. On Friday, she continued to open her unbandaged eye, doctors told reporters. She also is able to move her limbs and following commands, according to the Arizona Daily Star.

"We're actually confident that she's making some progress now," UMC neurosurgeon G. Michael Lemole Jr. told reporters on Friday. "So we're very encouraged that she's continuing to make all the right moves in all the right directions. Obviously we're very cautious that she makes them at her own pace. But we couldn't have hoped for any better improvement than we're seeing now given the severity of her injury initially."

Doctors have refused to make future predictions for the Congresswoman, but believe she will not die from her injuries.

Jared Lee Loughner has been charged in the shooting, which authorities believe was an assassination attempt.
NYTIMES