All four rivals for the GOP presidential will focus on Louisiana on Friday, the eve of that state's presidential primary.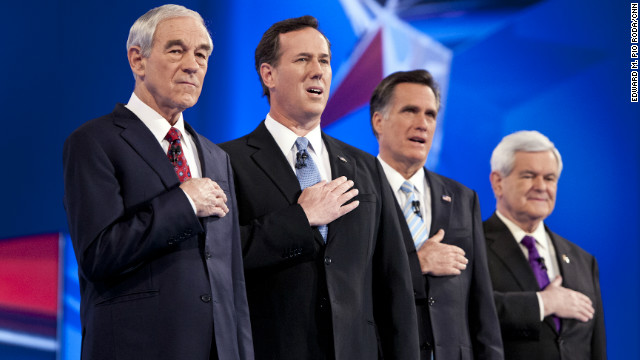 (CNN) -- All four rivals for the GOP presidential will focus on Louisiana on Friday, the eve of that state's presidential primary.

Former Massachusetts Gov. Mitt Romney is hoping to consolidate his lead for the Republican nomination to face President Barack Obama in November, while former Sen. Rick Santorum of Pennsylvania is looking for another strong showing in a Southern state after winning in Alabama and Mississippi last week.

As of Friday, Romney has 562 delegates, according to CNN estimates, nearly half of the 1,144 delegates necessary to clinch the GOP nomination. Santorum has an estimated 249 delegates.

Former Rep. Newt Gingrich of Georgia and Rep. Ron Paul of Texas are battling from behind, with an estimated 137 delegates for Gingrich and 71 for Paul.

On CNN's "Piers Morgan Tonight" on Thursday, Gingrich said he will continue to campaign because he has no choice.

"I'm staying in the race because I believe we ought to have a conservative who's serious, who's had national achievements and who doesn't write his policy on an Etch A Sketch and zigzag back and forth wildly," Gingrich said.

On Wednesday, a Romney aide answering a CNN question about whether the candidate had moved too far to the right for the general election used the image of an easily erased Etch A Sketch in describing how the campaign might shift into general election mode.

Romney's rivals quickly seized on the comment in an effort to fortify the image among some conservatives of him as a candidate willing to easily erase and rewrite his convictions.

Santorum even said Thursday that Republicans would be as well off giving Obama another term as they would electing Romney.

But even amid the rancor on the campaign trail, some Republican leaders are urging the candidates to start wrapping up the race. Tea party favorite Sen. Jim DeMint on Thursday urged fellow Republicans to be realistic.

"I just think we just need to look at where we are," DeMint said, strongly suggesting that Santorum and Gingrich should drop out to end the nomination fight and focus the party's efforts on defeating Obama in November.

"I just hope at some point they'll realize whether they can win or not," DeMint said of Romney's top opponents. "If they can't, the best thing they can probably do is to help the one who is going to win."

In Louisiana on Friday, Romney has events planned in Metarie and Shreveport, while Santorum will campaign in West Monroe, Shreveport and Pineville.

Gingrich will be in Port Fourchon, Kenner, and New Orleans, while Paul is scheduled to be in Pineville and Hammond.

Forty-six delegates are at stake in Saturday's Louisiana primary.