New Orleans is hunkering down as Hurricane Isaac pummels the city with strong winds and drenching rain.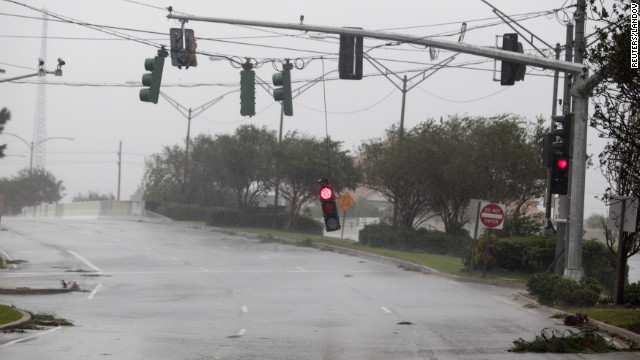 New Orleans is hunkering down as Hurricane Isaac pummels the city with strong winds and drenching rain.

The hurricane is drenching the US Gulf Coast exactly seven years after the devastating Hurricane Katrina, but is much less powerful.

The city has closed its new floodgates in a bid to protect it from the effects of high waters brought by sustained winds of up to 80mph (130km/h).

Sea water has already breached a levee in a town to the south of the city.

Caitlin Campbell, a spokeswoman for Plaquemines Parish - where Isaac first touched down - said water was running over an 18-mile (29-km) stretch of the levee and some homes were flooded.

After hitting Plaquemines, the Category One hurricane headed back out to sea, before making a second landfall further west at Port Fourchon at about 02:00 (07:00 GMT) local time.

There are now reports of serious flooding and people stranded by rising waters in the Braithwaite area, just across the Mississippi river from metropolitan New Orleans.

Plaquemines Parish President Billy Nungesser said the damage wrought by Isaac was worse than Katrina.

Mr Nungesser told local broadcaster WWL water in the area was standing at 12 to 14 feet, and that 75 people had been rescued from Braithwaite, with at least 25 still trapped in properties.

The overtopped 8ft-high levee in the east of Plaquemines Parish is not part of the upgraded federal system protecting New Orleans after Hurricane Katrina.

Braithwaite, on the eastern bank of the Mississippi, is home to some 1,800 people and lies just outside the new defensive wall.

"I don't know who's calling this a category 1, but this is no category 1," Mr Nungesser said. "My house has more damage than it did during Katrina."

"Not only did we see the worst case scenario, it got worse than that by this storm just stalling," he later told CNN, adding that the parish had been in the process of upgrading its own levee system.

Strong winds were hampering full-scale air and water rescue efforts in the area, but the BBC's Alastair Leithead reports local residents were trying to make rescues with small boats. National Guard was also set to launch a rescue effort.

Waiting out the storm

At 11:00 local time, the centre of the storm was close to the town of Houma, and 45 miles (60km) south-west of New Orleans and moving towards the city at about 6 mph, according to the US National Hurricane Center (NHC).

The slow-moving storm could take 12 hours to travel as far as Baton Rouge, a town 70 miles to the north-west of New Orleans.

In New Orleans, the updated levees appeared to be holding as the city was lashed by rain and winds.

"The system is performing as intended, as we expected," US Army Corps of Engineers spokeswoman Rachel Rodi said. "We don't see any issues with the hurricane system at this point."

But storm surges are still a concern, with peaks of up to 12ft (3.7m) forecast in parts of Mississippi and south-eastern Louisiana. Rainfalls of up to 1ft 8in are forecast across wide areas, along with a high chance of isolated tornadoes along the coast.

The bowl-shaped city of New Orleans is particularly vulnerable to storms, with the centre of the city the furthest below sea-level.

Many residents of New Orleans have chosen to secure their homes but stay put, saying they were not too concerned by Isaac.

"I feel safe," said Pamela Young from her home in the Lower Ninth Ward, a neighbourhood devastated by Katrina.

"Everybody's talking 'going, going', but the thing is, when you go, there's no telling what will happen. The storm isn't going to just hit here.

"If the wind isn't too rough, I can stay right here. If the water comes up, I can go upstairs."

Officials are urging residents who have not evacuated to stay in place until high winds dissipate. President Barack Obama has declared an emergency in Louisiana and Mississippi, allowing federal funds to be released to local authorities.

About 600,000 people were without power across five states, the majority in Louisiana, as of Wednesday afternoon, and the I-10 highway between New Orleans and Baton Rouge was closed because of high waters.

A major highway in Mississippi was also blocked in sections by storm surge flooding.

Isaac killed at least 24 people as it passed over Haiti and the Dominican Republic earlier this week.

It has also caused significant flooding and damage across the Caribbean and forced a day's delay to the start of the Republican party's congress in Tampa, Florida.