Abraham Attah, the 15-year-old who plays Agu in Beasts of No Nation, wore his TOMS to the Oscars. In response, TOMS donated 10,000 pairs to children in Ghana.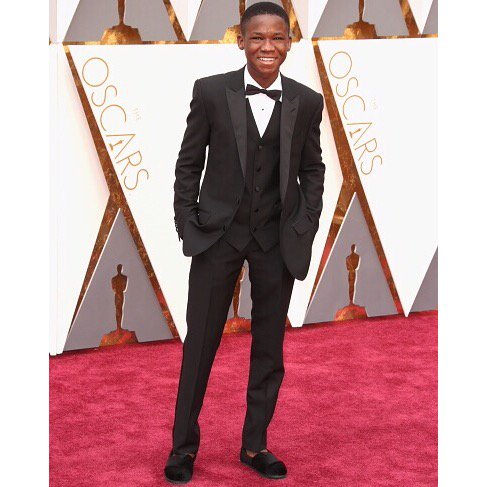 Abraham Attah, a 15-year-old actor and Oscar presenter, turned heads on the red carpet with his unusual choice of footwear. The Beasts of No Nation star looked dashing in a tuxedo and a pair of custom-made black velvet TOMS. He also wore TOMS on Saturday, to the Independent Spirit Awards, where he accepted an award for Best Actor. Attah has received numerous accolades for his debut role as the child soldier Agu in Beasts of No Nation (but no Oscar nomination … #OscarsSoWhite). By wearing his TOMS at an event infamous for its opulence, Attah highlighted the issue of global economic inequality.
Read More: Pakistani Oscar Winning Documentary Bring Honor Killings To Light
TOMS Shoes, known for their "One for One" policy, have become a symbol of socially responsible consumerism and global awareness. TOMS is a for-profit company with a humanitarian vision, famously donating one pair of TOMS to a child in an impoverished country for every pair it sells. The company responded to Attah's fashion choice by donating 10,000 pairs of shoes to children in Ghana, his home country.
Alert: @TOMS on the #Oscars red carpet! Respect, Abraham Attah. pic.twitter.com/GeyvqmBSlw

— Racked (@Racked) February 28, 2016
Read More: These Kids Are Working In Gold Mines While Your Kids Play With iPads
TOMS's efforts at benevolent capitalism have their critics. For one, it is impossible to pick apart selfish motivations from purely humanitarian ones. Attah didn't just further TOMS's social cause; he also gave them some amazing publicity. And publicity translates to sales. Of course, TOMS has been proudly featuring Attah on their Twitter page.
With the help of @AttahNii, we're giving 10k pairs of shoes to kids in need in his home country of Ghana. #Oscars pic.twitter.com/HJWTdG8xru

— TOMS (@TOMS) February 29, 2016
An even more serious concern is whether donating items like shoes is ultimately beneficial to the communities that receive them. Some economists have suggested that the obvious short-term benefits are outweighed in the long run because such donations perpetuate the cycle of Western economic dominance and Third World dependence. Local shoemakers cannot compete if their market is suddenly flooded with free products. The same is true for other items, like second hand clothing. To his great credit, TOMS founder Blake Mycoskie is listening. He has expanded his company's mission beyond shoes. In addition to donating new essential items, like eyeglasses and safe birth kits, Mycoskie is now focusing on local job creation in the countries that receive TOMS.
In any case, we can all agree that Abraham Attah looks both handsome and socially responsible in his distinctive Oscars ensemble.
Carbonated.TV