Heavy duty demolition equipment razed a section of the historic Shepherd Hotel in East Jerusalem today to make way for a new Jewish settlement in a move which opponents said further jeopardised the shaky prospects for peace.
(GUARDIAN)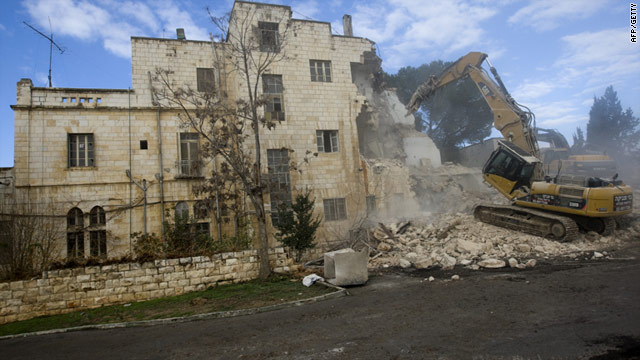 Heavy duty demolition equipment razed a section of the historic Shepherd Hotel in East Jerusalem today to make way for a new Jewish settlement in a move which opponents said further jeopardised the shaky prospects for peace.

Work began without warning in the early morning, and by 10am a wing of the hotel in the Palestinian neighbourhood of Sheikh Jarrah was reduced to rubble. The building, once the headquarters of Haj Amin al-Husseini, the former grand mufti of Jerusalem, has been the subject of controversial redevelopment plans since it was bought in 1985 by the US millionaire Irving Moskowitz, who is strongly pro-settlement. His ownership is contested by the Husseini family.


Both the US and UK governments have raised objections to the hotel's replacement by a Jewish settlement. East Jerusalem was annexed by Israel in 1967, and settlements there are illegal under international law. The hotel was declared "absentee property" after 1967. Approval was given last year by the Jerusalem district planning and building council to demolish part of the building to make way for 20 housing units.

Sheikh Jarrah has been targeted by hardline settlers over the past few years, and a number of Palestinian families have been evicted from their homes. Israel says Jews have the right to build and live anywhere in the city. The area has become a focal point for weekly protests by locals and leftwing Israelis.

"[Israel] is not looking for peace but to take more land," said Adnan Husseini, the Palestinian-appointed governor of Jerusalem, outside the gates of the hotel that were guarded by armed security personnel. "It's clear they are doing everything to violate the situation. They are disfiguring this area by building a settlement here."

Israeli actions, said resident Nasser Jawi, were "torpedoing the peace process".

Nasser Isa Hidmi, of the Jerusalem Committee Against Demolition and Deportation, said the international community should act to prevent Jewish settlers moving into Palestinian neighbourhoods: "We don't want sympathy – we want them to stop Israel from doing what it's doing."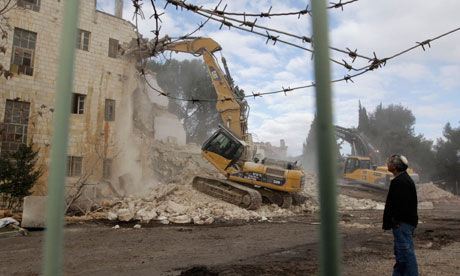 A handful of settler supporters witnessed the demolition. Daniel Luria of Ateret Cohanim, a rightwing pro-settler organisation, said: "There is no more beautiful sound than the destruction of the house of a notorious, not just Nazi sympathiser, but Nazi." Haj Amin al-Husseini was an ally of Hitler.

The demolition of part of the hotel follows an internal EU report on East Jerusalem last month that urged diplomatic intervention over demolitions, evictions, arrests, court cases and intimidation by Israeli authorities.

The EU heads of mission report, which is published annually and circulated privately to European diplomats, said the likelihood of East Jerusalem becoming the capital of a future Palestinian state is faint in the light of "interlinked Israeli policies and measures", including continued settlement expansion, restrictions on access and movement, demolitions and evictions.

"The past year has again seen a further deterioration of the overall situation in East Jerusalem," the report said. "If current trends are not stopped as a matter of urgency, the prospect of East Jerusalem as the future capital of a Palestinian state becomes increasingly unlikely and unworkable. This, in turn, seriously endangers the chances of a sustainable peace."

The report called for an EU presence "when there is a risk of demolitions or evictions of Palestinian families … at Israeli court cases on house demolitions or evictions … [and] EU intervention when Palestinians are arrested or intimidated by Israeli authorities for peaceful cultural, social or political activities in East Jerusalem."

Settlement construction in the east of the city, which, said the report, "embodies the essence of the conflict: territory, nationhood and religion", resumed intensively two months after the end of the Israeli government's building moratorium.

The report identified two types of settlements: small groups of ideologically-motivated settlers taking over homes in Palestinian neighbourhoods in an attempt to prevent the division of Jerusalem in any peace deal; and Israeli government initiatives squeezing East Jerusalem and separating it from the West Bank.
EU's Ashton Raps Israel For Demolishing East Jerusalem Hotel
(HAARETZ)


Settlement building on occupied Palestinian territory is illegal, the European Union reminded Israel on Sunday, after a historic hotel in East Jerusalem was partly demolished to make way for a Jewish apartment complex.

"I strongly condemn this morning's demolition of the Shepherd Hotel and the planned construction of a new illegal settlement," the EU's foreign policy chief Catherine Ashton said in a statement.


"I reiterate that settlements are illegal under international law, undermine trust between the parties and constitute an obstacle to peace," Ashton added.

Israeli bulldozers cleared the way on Sunday for 20 new homes in East Jerusalem, demolishing a wing of a derelict hotel in a settlement project that has angered Palestinians and drawn U.S. objections.

Construction at the Shepherd Hotel compound, whose ownership is contested, was likely to deepen Israeli-Palestinian acrimony as Washington tries to revive peace talks stalled by a dispute over Israel's settlement policy in the West Bank and East Jerusalem, areas captured in the 1967 Six-Day War.

Ashton reiterated that "the EU does not recognize" the annexation of East Jerusalem by Israel, and also expressed concern for recent violence in the West Bank, amid escalating Israeli-Palestinian tension.

British Foreign Office Minister Alistair Burt also responded to reports that work has begun to enable creation of a new illegal settlement in occupied East Jerusalem, and said that "the British Government reaffirms its strong, long-standing opposition to the creation of this new illegal settlement in occupied East Jerusalem and condemns today's demolition in Sheikh Jerrah. The establishment and expansion of settlements in the occupied Palestinian territories are illegal."


"We oppose provocative unilateral actions such as this, which hinder efforts to resume talks between the two parties leading to a two-state solution to this conflict, with Jerusalem as the shared capital of the two states living side by side in peace and security. That is the way forward. This latest settlement activity does not help – on the contrary, it raises tensions unnecessarily," he added.

"We see this matter as extremely dangerous," said Hatem Abdel Qader, the Palestinian official who oversees Jerusalem affairs for President Mahmoud Abbas' Fatah movement.