A new U.N. report adds credibility to Israel's warnings that Iran is bent on developing nuclear weapons, Israeli officials said Friday. The report's findings could provide ammunition to Israel's calls for military action against Iranian facilities.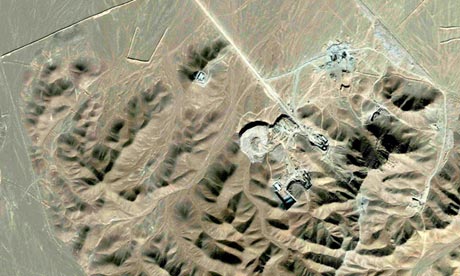 JERUSALEM (AP) — A new U.N. report adds credibility to Israel's warnings that Iran is bent on developing nuclear weapons, Israeli officials said Friday. The report's findings could provide ammunition to Israel's calls for military action against Iranian facilities.

Iran, meanwhile, denounced the report's conclusions — that Tehran stepped up controversial nuclear activities while blocking monitoring of a suspect site — and said that they made "no technical sense."

Washington opposes unilateral Israeli action, and tensions between the two allies have mounted as international efforts to persuade Iran to scale back its nuclear program have faltered. For a second time this month, top U.S military officer Gen. Martin Dempsey spoke out against an Israeli strike, saying he would "not want to be complicit" in such an assault.

The U.N. nuclear agency concluded in a report Thursday that Iran stepped up its installation of centrifuges capable of making the core of nuclear warheads in an underground bunker at its Fordo underground facility, safe from most aerial attacks.

It also said Iran in effect shut down a probe of a separate site, Parchin, that is suspected of being used for arms-related experiments by shrouding it from spy satellite view with a covering.

"The report confirms what Prime Minister (Benjamin) Netanyahu has been talking about for years now, that the Iranian nuclear program is designed to achieve a nuclear weapon," an Israeli official said. He spoke on condition of anonymity because he was not authorized to speak to reporters.

The U.N. says Iran has installed 1,000 centrifuges at Fordo since May, doubling the number there. Israeli defense officials said Friday that they were surprised by the pace of the increase, but said the information contained in the U.N. report would not influence Israel's decision whether to attack and if so, when. They spoke on condition of anonymity because they were not authorized to discuss confidential assessments of the Iranian program.

Some nuclear experts have cautioned against concluding too much from the increase. Senior diplomats outside Israel familiar with the International Atomic Energy Agency report said it was unclear how many are operational. They also said it was unclear whether the machines would be used to produce reactor fuel or nuclear warhead.

Iran's foreign minister meanwhile said Friday that the report "does not make any technical sense." Ali Akbar Salehi said it wrongly accused Iran of trying to clean up traces of nuclear experiments at a military base even though removing such radioactive residue would be impossible.

"Whoever has expertise in this field understands that these are offering excuses. Such issues cannot be eradicated through cleaning," the official news agency IRNA quoted him as saying.

U.N. officials have said they never expected to find radioactive residue at Parchin and were looking for other signs of testing.

Iran denies it is building weapons, but its refusal to stop enriching uranium despite crushing international sanctions has raised concerns about its true motives. Israel, frustrated by the international community's failure to make headway with Iran through sanctions and a U.S.-led dialogue, has hinted broadly that it would be prepared to use military force — acting alone, if necessary — to keep Iran from becoming a nuclear power.

While Israeli leaders say they have not yet decided whether to strike, several senior officials have warned that Israel, which lacks certain specialized weapons, would have to attack within weeks before key elements of the nuclear program are moved into heavily fortified underground bunkers impregnable to most types of bombs.

The possibility of an imminent assault has caused much friction with Washington, which worries that a premature Israeli attack could send global oil prices soaring and touch off a broad conflict possibly drawing in U.S. forces on the eve of the American presidential election.

Britain's The Guardian newspaper reported Thursday that Dempsey distanced himself from any Israeli plan to bomb Iran, saying, "I don't want to be complicit if they (Israel) choose to do it." An Israeli attack would delay but probably not destroy Iran's nuclear program, he told a group of British journalists, voicing an assessment Israel itself shares.

President Barack Obama has vowed to act militarily to prevent Iran from going nuclear. With its unparalleled arsenal of combat planes and bunker-busting bombs, the U.S. can wait longer than Israel to act, but Israeli leaders do not seem reassured by his pledge, stating repeatedly that Israel reserves the right to defend itself.

Israel considers Iran to be its most formidable enemy, given its nuclear program, its repeated calls for Israel's destruction and its proxy militant groups based near Israel's borders.