When 18-year-old Carlos Vazquez wrote to Pope Francis from an L.A. prison, he was shocked to get an answer. The Pope's compassionate response gave Vazquez new hope.
A juvenile gang member jailed in L.A. wrote to @Pontifex, and the pontiff wrote him back. https://t.co/Bmn3wTROua pic.twitter.com/0Uc9ZKqY92

— CNN (@CNN) March 4, 2016
Pope Francis proclaims, "The name of God is mercy." This week he exemplified that mercy by answering a teenager's letter from jail.
Carlos Adrian Vazquez Jr., a Los Angeles 18-year-old, is serving an 11 year sentence for involuntary manslaughter. In an interview with CNN, he discussed his painful past, his spiritual transformation, and his new lease on life.
Read More: Democrat Or Republican? The Pope's Speech Blurs The Lines
At 15, Vazquez dropped out of high school and joined one of L.A.'s many gangs. A year later, he was arrested for his involvement in a fight that left a rival gang member dead. Though he did not slay the man himself, he was judged guilty for his participation.
During his incarceration, Vasquez has become a different person. His first months at the juvenile detention center were filled with violence, as he continued to identify with his gang and fought with other inmates. In his despair, he considered ending his life.
The #Jesuit Restorative Justice Initiative (JRJI) was recently featured on #Univision Channel 34 - Video at: http://t.co/KKSnxWS1J4

— Ignatian Solidarity (@IGsolidarityNET) August 14, 2013
Gradually, however, compassionate volunteers and weekly visits from his parents restored his hope. Rev. Michael Kennedy, head of the Jesuit Restorative Justice Initiative, has been working with Vazquez and other juvenile inmates. He encourages the teens to repent and embrace forgiveness, not to let their pasts define them. This message of mercy changed Vazquez's life.
Kennedy led several inmates in writing letters to Pope Francis. Vazquez told the Pontiff,
"If only the world were filled with more love, compassion, forgiveness and mercy. Being an outcast of society, I want the world to see us for who we truly are; human beings, who make mistakes like everybody else. But we are able to rise again like a Phoenix … I will become a leader some day, like Cesar Chavez, Martin Luther King Jr., Nelson Mandela and Malala Yousafzai. Thank you for your loving and your merciful example to all of us."
Open your heart to mercy! Divine mercy is stronger than the sins of men

— Pope Francis (@Pontifex) March 4, 2016
He was astonished when the Pope actually wrote back. "I couldn't believe it," he told CNN. "I didn't think the Pope would write to someone who's behind bars."
Pope Francis warmly replied, "Dear Carlos, May the peace of Jesus Christ be with you! I was pleased to receive your recent letter." He proposed that the Jesuit ministry conduct the rite of the "Holy Door to Mercy," in which people walk through a symbolic door to receive forgiveness. The Pope's closing words exude love and respect:
"I pray that as you and your fellow residents celebrate the opening of the Holy Door, you may receive these gifts and be filled with peace and hope. Know that the Holy Father is thinking of you and praying for you. And please remember to pray for me, because I greatly need your prayers."
The inmates' letters and the Pope's reply are available online.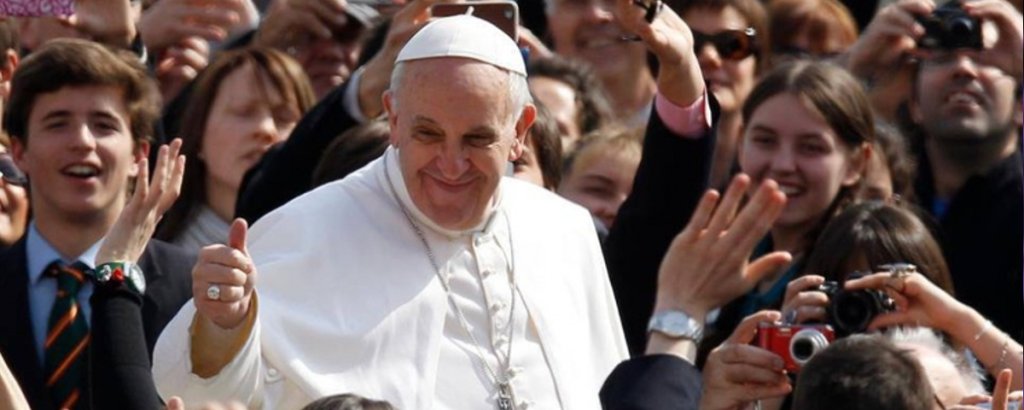 This Pope has distinguished himself as an ally for the oppressed. In this year's Jubilee of Mercy mission, he is focusing on people behind bars. Pope Francis has made numerous prison visits, publicly challenged harsh penal codes, and even ceremonially washed prisoners' feet.
Read More: Pope Says Trump Isn't A Christian, Trump Blames Mexico
Carlos Vazquez is now an ambassador of hope. His transformation challenges society to change how we treat prisoners. Punishment in itself will not solve anything; lasting change requires compassion. Our prison system will remain broken until lawmakers respect offenders' humanity. As Saint Paul wrote two millennia ago, "Mercy triumphs over judgment."
Banner Image Credit: Reuters
Carbonated.TV