Ethiopia's government has insisted the country is stable following the death of long-time Prime Minister Meles Zenawi at the age of 57.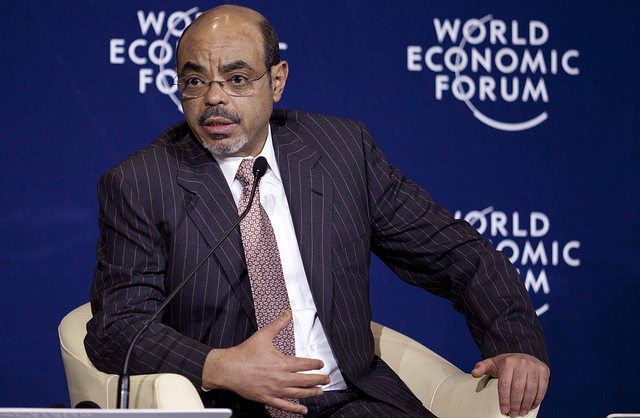 Ethiopia's government has insisted the country is stable following the death of long-time Prime Minister Meles Zenawi at the age of 57.

Mr Meles died at a hospital in the Belgian capital, Brussels, late on Monday after a long illness.

His body is being flown back to the capital, Addis Ababa, and a period of national mourning has been announced.

State media reported that Deputy Prime Minister Hailemariam Desalegn would take over until elections in 2015.

Mr Meles's death has sparked fears of a leadership vacuum which could lead to instability in Ethiopia.

Kenyan Prime Minister Raila Odinga is among those who have expressed concern that Mr Meles' death could herald a period of instability for Ethiopia.

He told the BBC the situation in Ethiopia was "very fragile" and that he was unsure whether the country was "sufficiently prepared for his succession".

"One would hope they could contain the various factions within the government so that the transition is smooth," he said.

Mr Meles' death was celebrated by the al-Shabab Islamist militant group in Somalia - where he twice sent troops to fight. They told Reuters that Ethiopia was "sure to collapse".

But at a news conference in Addis Ababa, Ethiopian government spokesman Bereket Simon said that Mr Hailemariam had been appointed acting prime minister.

"There will be no election as the constitutional procedure allows us to continue with the deputy prime minister acting as prime minister for now," he said.

"He will take over in parliament and then he will kick off as a full-fledged prime minister."
Western ally

Mr Bereket said the parliament, which is currently in recess, would reconvene as soon as possible to start the process and swear in Mr Hailemariam.

Mr Meles had not been seen in public for weeks and speculation about his health mounted when he missed a summit in Addis Ababa last month

The Council of Ministers announced his death on state TV on Tuesday.

The statement said Mr Meles had been receiving medical treatment abroad for the past two months and that his health was improving. But he developed a "sudden infection" on Sunday and despite emergency treatment, died at 23:40 on Monday.

Mr Meles took power as the leader of rebels that ousted communist leader Mengistu Haile Mariam in 1991.

He is credited with spearheading economic development in Ethiopia - but, critics charge, at the price of respect for human rights.

One rights critic, Commander Assefa Seifu, called Mr Meles "a devil incarnate".

"He was always talking about democracy, civil rights, adherence to [the] constitution and the like. But it was only a lip service," he told the BBC.

Under Mr Meles, Ethiopia became a staunch US ally, receiving hundreds of millions of dollars in aid over the years, and hosting the US military drones that patrol East Africa.

He won accolades from the West for sending troops to battle Islamist militants in Somalia, but concern had been growing about the lack of democracy and human rights in Ethiopia.

At least 200 people died in the violence that followed the 2005 elections, and many journalists and politicians have been locked up.