Downing Street sources have made it clear Prince Andrew may not survive as a UK trade envoy if there are more damaging revelations about him.
The Guardian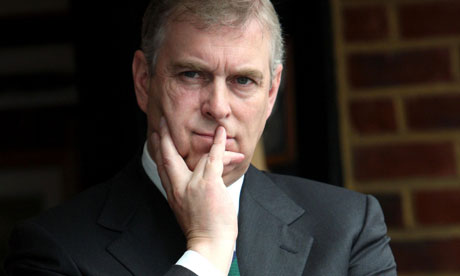 Business Secretary Vince Cable said the Duke of York would have to judge his own position, although there would be "conversations" about his future role.

The prince has been criticised over his friendship with a convicted paedophile, the American financier Jeffrey Epstein.

Ministers have defended the prince's work, adding it is regularly reviewed.

"I think we need to remember he is doing this as a volunteer, he is not a government appointee, he is not somebody who is appointed and sacked," Mr Cable told the BBC.

"The assessment of the businesses I have seen that have worked with him is that he has been supportive and helpful.

"I think it is down to him to judge the position he wants to be in. Obviously there are conversations which will take place with him about what he's to do in future."

BBC political correspondent Gary O'Donoghue said a Downing Street source had conceded one more serious story could make the prince's role untenable.

Our correspondent added that the prince was currently continuing in his job, but that the position was already reviewed on a regular basis.

One review took place last Tuesday when Prince Andrew met Sir Jon Cunliffe, the prime minister's chief adviser on Europe and overseas business.

The Downing Street source described the recent flurry of stories surrounding the Duke of York as the media trying to create "guilt by association" but added that one more serious story could change the situation overnight.

"It's unlikely the government would actually sack Prince Andrew but may choose in the long run gradually to downgrade his activities, avoiding a damaging and embarrassing row between ministers and the Royal Family," added our correspondent.
'Harassed'

Meanwhile Labour MP and former Foreign Office minister Chris Bryant has reiterated his view that Andrew should no longer be used as a UK trade ambassador.

"I am sure there are some countries in the world where having a visiting royal makes a difference, it makes it possible to have some meetings which wouldn't otherwise be possible," he told BBC Breakfast.

"But I am afraid he has now just become a national embarrassment. My worry is that, sometimes when he goes on these trips, I am not sure whether he is helping us out or he is just helping himself."

He added: "The truth is we shouldn't be using him for these delegations any more."

But royal historian Hugo Vickers said there had been "rather irresponsible" harassment of Andrew by the press.

"I actually really disapprove very strongly of people being hounded out of a job, if he is doing a good job, by this sort of press coverage," he said.

"I think if you actually examine the facts very carefully you will find that a lot of mud has been slung at him, some of it perhaps should have been, but... an awful lot of it shouldn't."

Foreign Secretary William Hague has also defended the prince's work.

On Sunday he said Prince Andrew has done "a lot of good for the UK" in his role as trade ambassador.

Mr Epstein was sentenced to 18 months in prison in 2008 for soliciting a minor for prostitution.

Prince Andrew has been the UK's Special Representative for International Trade and Investment since 2001, with the job of promoting Britain's business interests around the world.