"(BBC)

The commander of international forces in Afghanistan said in London the move aimed to back President Hamid Karzai's efforts to reach out to the insurgents.

Despite the peace feelers, analysts say the bigger picture is of an intensifying insurgency in the country. Afghanistan is facing its bloodiest year since the US-led invasion of 2001.

During his address to a defence think tank, Gen Petraeus said there were ""several ongoing initiatives"" to try to get the Taliban to the negotiating table.

""Indeed in certain respects we do facilitate that given that needless to say it would not be the easiest of tasks for a senior Taliban commander to enter Afghanistan and make his way to Kabul if Isaf [Nato's International Security Assistance Force in Afghanistan] were not willing and aware of it and therefore allows it to take place,"" Gen Petraeus said."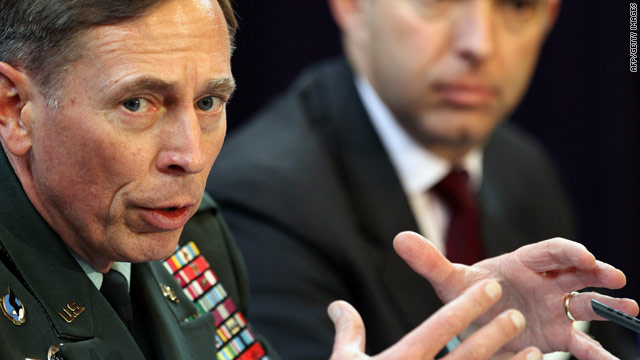 The top Western military commander in Afghanistan said Friday that NATO-led forces "facilitate" the trips of senior Taliban commanders for discussions with government representatives.

This comes amid a flurry of reports of contact between the Afghan government and Taliban members, and Gen. David Petraeus, speaking at a British think tank, touched on "ongoing initiatives" and interaction.

A source from NATO's International Security Assistance Force, who asked not to be named, said troops have been guaranteeing safe passage for those Taliban officials on their way to meetings with Afghan officials, and Petraeus made a similar remark on Friday.

"Indeed, in certain respects, we do facilitate that, given that needless to say it would not be the easiest of tasks for a senior Taliban commander to enter Afghanistan and make his way to Kabul if ISAF were not witting and aware of it, and therefore allows it to take place. And again, that's about as far as I can go on that at this point in time," said Petraeus, the U.S. and NATO commander. He was referring to NATO's International Security Assistance Force, known as ISAF.
There have been reports of informal contact between members of the Taliban and the Afghan government, and Afghanistan has formed a High Peace Council devoted to pursuing reconciliation moves with militants. Afghan President Hamid Karzai said on CNN that unofficial talks have been taking place.

"There have been several very senior Taliban leaders who have reached out to the Afghan government at the highest levels, and have also in some cases reached out to other countries involved, engaged in Afghanistan," said Petraeus, who noted that such contact "can only be characterized as preliminary in nature."

Petreaus said that NATO and the United States both support Karzai's peace initiatives and the "red lines" he's set down for reconciliation: laying down weapons, renouncing violence, cutting ties with transnational extremists, and accepting the Afghan constitution.

"And that is the state of play right now," Petraeus said.

One senior ISAF official, who requested anonymity because he's discussing sensitive matters that could involve intelligence, said there isn't any real momentum yet in the contacts.

The same official said the Afghan government is developing a reintegration program on a local level designed to bring people "out of the cold."
The plan would offer reformed local Taliban a level of security against retribution, jobs, and economic help, and the government may take the fighters off a target list.

The source said those interested in reintegration have mainly been those Afghans directed and controlled by the Quetta Shura -- the top leadership of the Afghan Taliban. There are some fighters from the Haqqani Network and the Hizb-I Islami Gulbuddin involved as well.

ISAF believes that the incentive for participation in reconciliation efforts might be the growing military pressure and airstrikes.

The official said there are four to five times more strikes than there were 18 months ago and that 300 senior Taliban leaders and 800 fighters have been killed in the past 90 days. In that same period, 2,000 have been seized, even though some are no longer in detention.

The source said there are offensive strikes in which overhead surveillance is used to determine that civilians aren't in the area of the target. And, he said that IED factories and wired compounds have had to be destroyed in the south because no one can disarm them and people can't move through the area.

Speaking at the Royal United Services Institute, Petraeus said he is confident that the tough Afghan fight is headed in the right direction, and he backs the president's peace moves.

"No one should have any illusions about how difficult the fight will continue to be as we and our Afghan partners strive to bring peace to a nation that has suffered through more than 30 years of continuous war," he said.

"Still, I believe that we now have the right strategy in place."

He cited military efforts to improve security in southern Afghanistan's Kandahar and Helmand provinces and focused on the importance of increasing the size of the Afghan security forces.

He said there has been progress in literacy, health care, the infrastructure and the economy.

"The kind of developments we've seen, the ongoing efforts to establish an effective government, and the hard-fought but steady security gains all provide grounds to believe that our efforts in Afghanistan can achieve progress, and over time, together with the Afghan people, can enable accomplishment of our important objectives there," he said.

U.S. Secretary of State Hillary Clinton also stated these principles for reconciliation in a TV interview on Thursday and noted that "it's very early in the process."
"I am increasingly convinced that many of the lower-level Taliban, young men who, frankly, went to fight for the Taliban because they got paid more than they could make anywhere else, I believe that they are, in increasing numbers, laying down their arms and coming back into society," she said.

Petraeus was in London for meetings on Thursday with British officials about Afghan issues, including last week's failed operation to rescue a British aid worker from kidnappers in Afghanistan.

He said learning how British aid worker Linda Norgrove died is his "personal priority." Norgrove, who had been held hostage since late last month, worked for DAI, an agency that provides various services to developing nations.

Petraeus on Friday again promised to get to the bottom of Norgrove's death.

The initial report on the rescue mission by the troops who carried it out did not mention that they had thrown a grenade, but, Petraeus said, "it was very clear that there was a throwing motion and an explosion that followed and that a grenade had been employed."

"We will investigate to determine the specific facts in a joint and completely transparent U.S.-U.K. effort that will then be shared completely with the Norgrove family as soon as the results are established. And of course, there's an issue of the autopsy that has to be conducted -- that will be done here in the United Kingdom. My understanding is that will be undertaken very shortly. And that is a critical element of this, of course, because again, one cannot jump to conclusions."




Source: CNN