Nelson Mandela, the former South African president, has undergone a 'diagnostic procedure' for a suspected hernia and could be released from hospital as early as Sunday, it has been confirmed.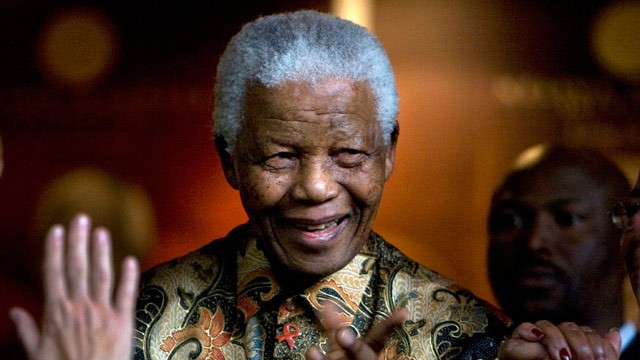 Nelson Mandela, the former South African president, has undergone a 'diagnostic procedure' for a suspected hernia and could be released from hospital as early as Sunday, it has been confirmed.

The 93-year-old statesman was admitted on Saturday morning for what was described as a pre-planned appointment with specialists about a "long-standing abdominal complaint".

"We wish him a speedy recovery and assure him of the love and good wishes of all South Africans and people throughout the world," President Jacob Zuma said in a statement.

The announcement sparked a panic that has become familiar with each rumoured or actual health upset suffered by Mr Mandela, who has been almost entirely absent from public view for the past two years.

In January last year, he spent two nights in hospital suffering from an acute respiratory infection. In December, television footage of that hospital stay and his subsequent departure in a year-end review prompted erroneous reports that he had been admitted again.

Mr Mandela previously suffered from tuberculosis during his 27 year jail term for defying the apartheid government.

Mac Maharaj, Presient Zuma's spokesman who spent many years imprisoned with Mr Mandela on Robben Island, insisted that the latest hospital admission "not a major issue".

"This is a long-standing complaint and it's not as if he has just gone in suddenly in an emergency, it has been pre-planned," he said.

He said President Zuma was waiting to see a full report from the specialists examining Mr Mandela before further information about his condition is made public.

"I spoke to President Zuma this morning and he has requested the full report before we decide what information to release," he said.

The Telegraph understands that Mr Mandela was suffering from a hernia which has been operated on. Broadcasters reported that he was in a "stable condition" following a successful operation and could leave hospital as early as tomorrow.

A hernia is generally caused by natural weaknesses in the abdominal wall, which results in the stomach and intestines push through a hole, causing a bulge.

Older people who suffer from hernias are often advised to bind them with a corset rather than undergo surgery, which carries inherent risks.

However, where the patient is in pain or there is a risk of a twist in the hernia that could cut off the blood supply to the organs, surgery becomes necessary.

The president's office has refused to say which hospital Madiba, the clan name by which he is affectionately known, is being treated in.

Mr Maharaj said there were concerns that if it did so, "concerned members of the public might swamp it".
By Saturday lunchtime, a military police cordon had been thrown up around One Military Hospital, a healthcare facility in the capital, Pretoria, as reporters and television cameras gathered in numbers.

The military in South Africa is responsible for the health care of all former presidents and Mil One - as it is locally known - is the biggest of its kind in the region.

Ndileka Mandela, the daughter of Mr Mandela's eldest son, Thembi, said the family was not unduly concerned since her grandfather was the "epitome of health for a man of his age"..

"When a person of that age is admitted to hospital for a check up, you can never know," she told The Telegraph.

"All of us with grandparents know that for people at the age, things can be touch and go.

"Things can take a turn for the worst at any given time but for now, he is fine."

She said she last saw her grandfather on Wednesday when they celebrated her birthday at his home in the upmarket suburb of Houghton in Johannesburg.

"He is in good spirits," she said. "He was teasing me about how old I was."

She said that Mr Mandela was strong enough to withstand most ailments.

"He rebounded last year when he was admitted," she said. "Madiba is very strong and very determined.

"He fought on then, he soldiered on and to use a medical term, he built up his reserves. Whatever happens, he should be able to fight it."

Keith Khoza, a spokesman for the ruling African National Congress, said people should not panic.

"President Nelson Mandela had abdominal pains for some time and they decided he must receive the attention of specialists," he said. "People should understand that there is nothing to worry about."

He conceded that it was natural for South Africans to be concerned.

"People revere Nelson Mandela, they love him and every time they hear every time that they hear he has been hospitalised, because of his age, they think that there might be trouble on the horizon.

"We can tell them that he is in good hands and he is fine."