North Korea has launched its long-range rocket but its neighbours say the rocket failed shortly after take-off.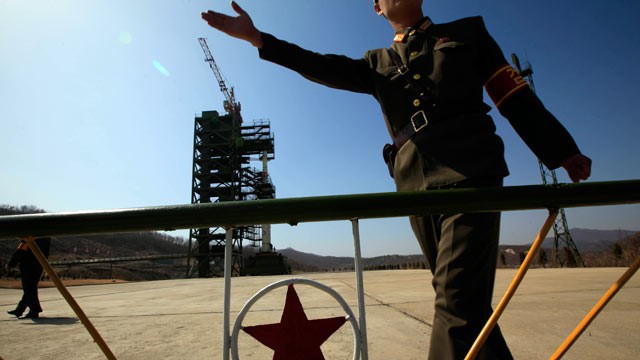 North Korea has launched its long-range rocket but its neighbours say the rocket failed shortly after take-off.

The rocket - seen by many as a banned test of long-range missile technology - was launched from north-west North Korea early on Friday.

But officials from Japan and South Korea say it flew for only a few minutes before crashing into waters off the Korean Peninsula.

There has been no word yet from North Korea on the launch.

North Korea says the aim of the rocket was to launch a satellite into orbit - a move marking the 100th anniversary of the birth of national founder Kim Il-sung.

But the US and other nations say the launch constituted a disguised test of long-range missile technology banned under UN resolutions.

'Ended in failure'

The rocket went up at 07:39 local time (22:39 GMT Thursday), South Korean officials said.

Its intended flight path would have taken it south, to the west of the Korean peninsula between Japan and the Philippines.

Both Japan and South Korea had threatened to shoot it down if it threatened their territory.

But officials from several nations observing the launch said the rocket had failed.

"South Korean and US intelligence authorities believe North Korea's missile launch ended in failure," South Korea's Defence Ministry spokesman Kim Min-seok said.

Japan also said the test had apparently failed.

"At approximately 7:40 am we confirmed that a certain flying object was launched from North Korea and fell after flying for just over a minute. There was no impact on Japanese territory," Japanese Defence Minister Naoki Tanaka said.

South Korean media reported that the debris fell into the sea west of the Korean peninsula off the port of Kunsan.

But the BBC's Damian Grammaticas, in Pyongyang, says North Korean officials have not yet given any information on the launch.

'Provocative action'

The US said that North Korea's behaviour was of concern to the global community.

"Despite the failure of its attempted missile launch, North Korea's provocative action threatens regional security, violates international law and contravenes its own recent commitments," a White House statement said.

Pyongyang agreed in February to a partial freeze in nuclear activities and a missile test moratorium in return for US food aid. But that deal was put on hold last month after the North announced its rocket launch plans.

North Korea conducted a similar launch in 2009. On that occasion US and South Korea analysts said the rocket failed to reach orbit - but North Korea said it was a success.

The apparent failure of this launch would pose a challenge for Pyongyang, which is holding a week of high-profile events ahead of the formal celebrations to mark Kim Il-sung's birthday on Sunday.

The Workers' Party held a rare conference on Wednesday and the country's rubber-stamp parliament is due to meet on Friday.

Both meetings are seen as formalising the transition of power to young leader Kim Jong-un following the death of his father Kim Jong-il in December 2011.