Afghanistan President Hamid Karzai called for calm Sunday after outrage over the burning of Qurans at a U.S. base sparked deadly protests and led to the shooting deaths of four American soldiers.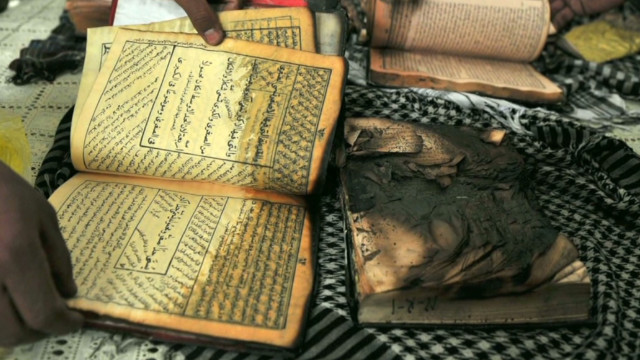 Afghanistan President Hamid Karzai called for calm Sunday after outrage over the burning of Qurans at a U.S. base sparked deadly protests and led to the shooting deaths of four American soldiers.

Karzai's call followed news that a gunman who shot two American officers a day earlier inside the highly secured Afghan Ministry of Interior was a junior intelligence officer with ties to a Pakistani religious school, an Afghan counter-terrorism official said.

The gunman, who remained at large, was identified as Abdul Saboor, an employee in the ministry's intelligence department, according to the official, who spoke on condition of anonymity because he was not authorized to release the information.

"We believe it was 100% linked to the Quran burning because of the religious background of this junior officer. He spent two months in a Pakistani madrassa," the official said.

In a televised address, Karzai said the "emotions of our people in this regard are legitimate and valuable."

At least 29 people were killed and nearly 200 wounded in recent protests, Karzai said.

Karzai called for Afghans to "try to be calm," saying it would stop "enemies of our peace and stability" from taking advantage of the situation and harming people and property.

He also repeated calls for the United Sates to prosecute those responsible for the burning the Qurans.

"We have asked for punishment and an investigation," he said.

Karzai also extended his condolences to the families of the American officers killed, but said he did not know who was responsible or what was the motivation.

The protests began last week after reports emerged that NATO troops burned Qurans at Bagram Airfield.

A military official said the materials burned were removed from a detainee center's library because they had "extremist inscriptions" on them and there was "an appearance that these documents were being used to facilitate extremist communications."

The official spoke on condition of anonymity because of the sensitivity of the issue.

American officials, including President Barack Obama, have apologized and said the burning of the Qurans was an unintentional error.

But the burnings sent throngs of protesters to the streets and military bases, some chanting, "Death to America." Muslims believe the Quran is the word of God, so holy that people should wash their hands before touching the sacred book.

The protests soon turned violent.

Saturday's killing of the American officers prompted Gen. John Allen to order several hundred NATO-led International Security Assistance Force advisers to withdraw from ministries in Kabul as a precaution, raising questions about a U.S. military plan that plans to focus on the use of small teams of military advisers as it withdraws troops.

"For obvious force protection reasons, I have also taken immediate measures to recall all other ISAF personnel working in ministries in and around Kabul," Allen said.

According to ISAF, initial reports indicated that "an individual" turned his weapon against NATO service members, later confirmed by an Afghan police official to be an American colonel and major.

"We are aware of the media reports that are out there now, naming a suspect, but we have no new information from our ongoing investigation of yesterday's incident, regarding the shooter," said Lt. Col. Jimmie Cummings, an ISAF spokesman.

Saboor, according to the Afghan counter-terrorism official, arrived at the ministry Saturday about noon, signed himself in and retrieved his gun.

The two officers were found dead in their office from gunshot wounds to the head, said an Afghan police official, who also spoke on condition of anonymity for the same reason.

Despite being pulled from the ministries, the military advisers remained in contact with ministry personnel, Cummings said.

"We will not let this incident divide the coalition," he said.

Even so, NATO troops working as advisers outside the Afghan capital were also warned to take precautions.

The warning follows the shooting deaths last week of two American soldiers by a man wearing an Afghan National Army uniform at a base in the eastern Nangarhar province.

A protest over the burning of Qurans was taking place outside the base at the time of the killings.

The Defense Department over the weekend identified the two as Army Sgt. Joshua A. Born, 25, of Niceville, Florida, and Cpl. Timothy J. Conrad Jr., 22, of Roanoke, Virginia. Both were assigned to the 385th Military Police Battalion, 16th Military Police Brigade at Fort Stewart, Georgia.