This is a list of Pakistanis who made us proud in 2011. See if your favorite made the list.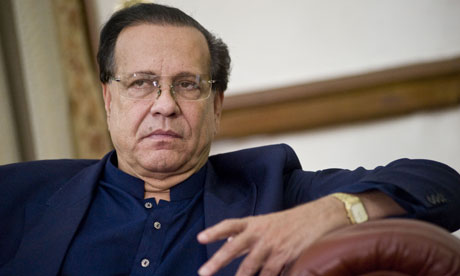 Salmaan Taseer – Salmaan Taseer was the governor of Punjab and this year he stood against the Blasphemy Law. However, he was assassinated by a fanatic, who happened to be his own security guard, Mumtaz Qadri. Qadri disagreed with Salmaan Taseer's view on Pakistan's Blasphemy Law. he left a legacy of tolerance for his nation.
Runner up:
Asia Bibi – is a member of the Christian community in Pakistan and she has been jailed over blasphemy. Since her imprisonment she has been enduring much and hence proves to be an icon of strong will. What will happen with her is anyone's guess.
SOCIAL ACTIVIST OF THE YEAR
Ansar Burney – International Ambassador for Peace and Human Rights, Mr Ansar Burney, born on August 14th in Karachi. He was the first man to introduce true human rights in Pakistan a couple of decades ago. In June 2011, $2.1 million dollars were paid as ransom by the Ansar Burney Welfare Trust (ABWT), to Somali pirates in order to free four Pakistanis and 18 others from India, Sri Lanka and Egypt. His extensive efforts are exemplary.
Runner up:
Awab Alvi – He is a Citizen Activist and is also known as the 'Teeth Maestro', he is also a member of PTI (Pakistan Terhreek-e-Insaf). He is also the member of the 'don't block the blog' and 'take back the tech' campaigns. These campaigns countered the government censorship and supported the Pakistani Blogger's Freedom of Speech.
Atif Aslam – is a Pakistani singer who has gained world-wide recognition with his singing skills. after making his mark in his own country he became a favorite in the neighboring country of India. He has also made his country proud, by making headlines for playing with Slash from 'Guns 'n Roses'.
Runner up:
Baigharat Brigade – this group of singers took the world by storm and made it to publications like the Wall Street Journal. Their song 'Aaloo Anday' addressed the deplorable conditions of Pakistan in a sarcastic fashion. The song was not only melodious but also Blunt about several key issues of Pakistan.
SPORTS PERSONALITY OF THE YEAR
Aisam ul Haq – is a Pakistani professional tennis player who took the name of his country all the way to Wimbledon. He is a top 10 doubles player and his highest single ranking is 103rd and is also a former Asian No.3. he helped Pakistan in boiling a positive image in the world. He also helped in the India-Pakistan peace process as he partnered with Rohan Bhopana from India.
Naseem Hameed – Is a Pakistani athlete, who became the fastest woman in South Asia when she won a gold medal in the 100-metre event of the 11th South Asian Federation Games in Dhaka, Bangladesh in 2010. She was then appointed as the Ambassador of Sports for Pakistan by President Asif Ali Zardari. She is also added to the list of brand ambassadors for the leading mobile operator of Pakistan, Mobilink. She arose from her hardships to conquer the heart of the nation.
ACADEMIC PERSONALITY OF THE YEAR
Dr Umar Saif – This LUMS (Lahore University of Management Sciences) became the first Pakistani to win Google grant. This LUMS Computer Science Associate Professor won the prestigious Google Faculty Research Award for his research work funded by the US State Department. The US$ 100,000 Google Faculty Research Award was awarded to Saif for a low-cost rural telephony system that he has been working on for the past three years along with colleagues at UC Berkeley. Saif is currently on leave from LUMS and is working as the chairman of the Punjab Information Technology Board (PITB) Pakistan Today.
Runner up: (we have a tie here)
Karrar Hussain Jaffar – Is an inhabitant of a small town Mariabad, Balochistan. This student broke the boundaries and confines of his small town for higher education and ended up studying at the prestigious Harvard University. His story is to be looked upon by all those in Pakistan for whom education remains to be a dream.
Sitara Akbar – This 11-year-old is a resident of Chiniot, Pakistan. Sitara passed her O-Level Chemistry at the age of nine. She then went on to set her first world record after passing O-level Biology at the age of 10. She then recently pushed her bar up by hitting a new record by passing English, Mathematics, Physics, Chemistry and Biology in O-Level. She also obtained 7 out of 9 bands in IELTS.
Shoaib Mansoor – He is an acclaimed Pakistani film and television producer, director, writer, lyricist and composer. Shoaib is one of the most influential figures in Pakistani showbiz scene. He has written and produced hit TV shows like Ankahi, Fifty Fifty; he introduced the 80's Pakistani pop sensation 'Vital Signs' and was the mentor of Junaid Jamshed. He debuted as a Film director with his film 'Khuda Ke Liye' in 2007 and this year he directed the film 'Bol' with Atif Aslam, Mahira Khan, Humaima Abbassi and Iman Ali playing lead roles. The film was released on 24 June 2011. The film addressed a delicate subject and showed the true colors of the society.
Runner up:
Sharmeen Obaid-Chinoy – Is an Emmy Award winning documentary filmmaker. Her films include 'Pakistan's Taliban Generation,' which aired on PBS, Channel 4, CBC, SBS and Arte and was the recipient of the Alfred I Dupont Award as well as The Association for International Broadcasting award. Sharmeen has made over a dozen-multi award winning films in over 10 countries around the world and is the first non-American to be awarded the Livingston Award for best international reporting.
Imran Khan – This former Cricketing sensation of Pakistan has taken the entire country, specially it's youth by a storm in the political scene. He has brought hope and voice back to the people of Pakistan. Just recently his rally in Karachi on 25th December 2011 was a living proof of his following.
Runner up:
Benazir Bhutto – She wins the posthumous-award for being the first Pakistani woman to be elected as the Prime Minister. She opened the doors for many Pakistani women, changing the perceptions of people in a male dominant society. Many followed her tread.
Carbonated.TV