Officer numbers predicted to fall by 12,000 – with crime-hit urban areas to be most affected by government cuts
Police chiefs have privately told ministers that a total of 28,000 jobs will be lost from the 43 forces in England and Wales because of government funding cuts, the Guardian has learned.

The confidential calculation from the Association of Chief Police Officers is the most authoritative so far about the effects on police numbers caused by a 20% reduction in government grants, and the first from police chiefs to be made public.

It predicts the number of officers will fall by 12,000, while civilian staff will have to be cut by 16,000, several sources say.

Urban areas, which have the highest crime rates, will be hit hardest because they are more reliant on government money, opening the coalition to charges that cuts will fall hardest on the poor areas.

The figures come in one of the most tumultuous weeks for British policing in modern times and could herald a showdown with the government.

The first part of the Winsor report into police pay will be released on Tuesday, with the government saying police will have to accept a cut in take-home pay in return for fewer job losses. On Thursday a review of public sector pensions by former Labour minister Lord Hutton will be released and is expected to ask police and other public sector workers to make increased contributions of hundreds of pounds a year.

The moves could see officers 5-10% worse off, and come on top of a two-year pay freeze. Police officers say they already make the highest pension contributions of any group of public sector workers.

Peter Fahy, chief constable of Greater Manchester police, confirmed the figures to the Guardian. He said: "We will have fewer staff, the same or more demands, and will need to incentivise staff to produce higher quality."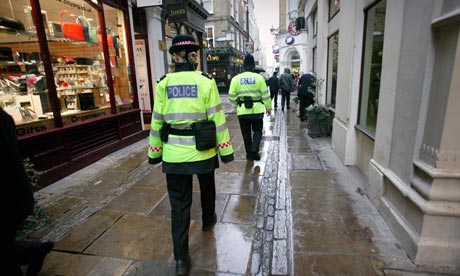 The government announced in October that police budgets face a cut of one fifth over four years as part of wider cuts.

The Acpo figure contains mixed news for the government. It is lower than estimates around last year, with the Police Federation warning of 40,000 officers going. But the issue of police officer numbers is politically sensitive and Labour hopes to link cuts in police numbers to the government being soft on crime.

According to Acpo, the cuts represent an 8% reduction in officer numbers over four years, with one in six civilian staff losing their jobs, representing an overall fall of just under 12% in overall staff numbers.

By the end of last month police authorities were legally obliged to set their budgets. The figure of 12,000 police officers fewer will mean the first decisive fall in officers in over a decade, but will also mean there will still be more than in 1997, when Labour started increasing numbers.

Over the weekend, the home secretary, Theresa May, who commissioned the report on police pay by former rail regulator Tom Winsor, claimed bigger savings could be made, totalling £1.8bn, by reducing inefficiencies and waste, and by freezing pay.

She said: "We are working with police forces to identify savings that actually go beyond the reduction in the central policing grant in the next four years.

The Acpo estimate of 28,000 job losses over four years is based on the actual cuts decided by the majority of police authorities, and some projections to cover those who have not settled on a final figure. Currently the police employ 244,000 people: 143,000 officers and 101,000 civilians.

The West Midlands force faces an 18% cut in revenues, as the force gets 86.4% of funding direct from central government. Surrey gets only half its money from government, with the rest being raised locally, meaning the cut it faces is 10%.

A government grant makes up 80% of the budget of the West Yorkshire force and the Greater Manchester force, 87.6% of the Northumbria force, and 81.8% of all funding of policing in Merseyside. The forces least reliant on government money are Surrey at 51.5%, Dorset at 55.6%, North Yorkshire at 56.2%, and Gloucestershire at 57.7%.

Greater Manchester is losing 2,950 jobs over four years, and this year has to cut its budget by £49m. Surrey faces a £2.6m cut and says it will boost its officer numbers by 200 by the end of this year.

Forces face extra difficulty in implementing cuts because the majority of them will have to be implemented in the first two years. Home Office figures show the cuts in the next financial year will be 6%, followed by 8% the next year, with the cuts falling to 4% in each of the years preceding the general election.

Announcing the cuts in October last year, chancellor George Osborne said: "There will be no reduction in the availability and the visibility of policing."

Ministers believe efficiency saving and reform of outdated practices such as bonuses and allowances will achieve high quality policing at a lower cost to the taxpayer.

May said at the weekend: "I know that some will reject in principle the very idea of reviewing pay and conditions, but I remind them that those savings will save the jobs of thousands of police men and women."

The government pledge to protect "front line policing" has run into an unforeseen problem, as there is no nationally agreed definition of what that exactly means.

Her Majesty's Inspectorate of Constabulary is working on a definition of what front line actually means, given the growth in the different roles and functions modern day policing performs.

Included in the definition of front line are first responders, neighbourhood officers, and those carrying out investigations. But the grey area covers roles such as community liaison officers and those involved in communications, such as radio systems, who have little or no visibility to the public, but whose work is deemed crucial to other parts of the service being able to work smoothly.

HMIC has also visited forces to assess the risk of services being affected by the cuts. The assessments are currently private, but some are believed to be better prepared than others.
The Guardian