A group of American victims who were sexual abused by a priest are now protesting the Vatican and alleging that Pope Benedict XVI facilitated a cover-up while he was a bishop. Mark Phillips reports.
The growing sex abuse storm buffeting the Catholic church todaymoved closer to the figure of the pope himself, after allegations emerged that as a cardinal he had chosen not to discipline a dying American priest accused of molesting as many as 200 deaf boys.

In a report that for the first time pointed the finger directly at the pope's own conduct, the New York Times said that while he was cardinal, Joseph Ratzinger was twice informed about a notorious case involving Father Lawrence Murphy, who ran a school for deaf children in Wisconsin between 1950 and 1974. Though instructions were giving for a canonical trial to be held into Murphy's misdeeds, proceedings were dropped after the priest wrote to Ratzinger begging not to be indicted.

The Vatican angrily denounced the latest accusation in what it sees as a campaign to smear the pope, and said the church was being unfairly portrayed as the only institution with such a sinister history.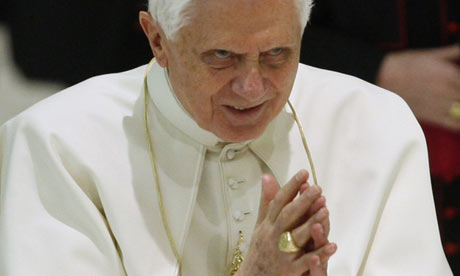 In a statement published on its front page, the Vatican daily, L'Osservatore Romano, lambasted the international media for an "obvious and ignoble attempt to strike, at all costs, Benedict and his closest collaborators". It said: "The prevalent tendency in the media is to gloss over the facts and force interpretations with the aim of spreading an image of the Catholic church almost as if it were the only [institution] responsible for sexual abuses."

Benedict is already on the defensive because of his stint as archbishop of Munich, during which a paedophile priest was accepted into his archdiocese and assigned to duties that enabled him to prey on children again.

Victims' groups have also accused Benedict of encouraging cover-ups by reminding bishops in a directive he issued before becoming pope of the need for secrecy in canonical proceedings involved particularly serious offences.

The New York Times said that three successive archbishops of Milwaukee were told Murphy was sexually abusing children, but never reported him to the civil authorities. Instead of being disciplined, he was removed from teaching duties but transferred to another diocese where he continued to work for more than 20 years in parishes, schools and – according to one account – a juvenile detention centre.

According to the newspaper, in 1996 the archbishop of Milwaukee, Rembert Weakland, twice wrote about the case to the future pope, then prefect of the powerful congregation for the doctrine of the faith, but got no reply.

Benedict's deputy, Cardinal Tarcisio Bertone, nevertheless instructed the bishops in Wisconsin to start a canonical trial that could have led to Murphy being defrocked.

But the proceedings were dropped after the priest wrote to Ratzinger begging not to be indicted. The Vatican said "the canonical question presented to the congregation was unrelated to any potential civil or criminal proceedings against Father Murphy".

The Vatican statement called the case "tragic" and said it involved "particularly vulnerable victims who suffered terribly from what [Murphy] did". But, it said, the congregation "was not informed of the matter until some 20 years later". It noted that the civil authorities had investigated allegations but had taken no action, though it acknowledged that neither that directive "nor the code of canon law ever prohibited the reporting of child abuse to law enforcement authorities".

Since Murphy was "elderly and in very poor health," said the Vatican, "and was living in seclusion and no allegations of abuse had been reported in over 20 years, the congregation for the doctrine of the faith suggested that the archbishop of Milwaukee give consideration to addressing the situation by, for example, restricting Father Murphy's public ministry and requiring that Father Murphy accept full responsibility for the gravity of his acts". Father Murphy died approximately four months later, without further incident."

Weakland, who resigned in 2002 after a scandal involving his relationship with a man and the disclosure that church money had been used to pay him a settlement, said: "The evidence was so complete and so extensive that I thought he should be reduced to the lay state, and also that that would bring a certain amount of peace in the deaf community."

After Murphy died, Weakland wrote to Cardinal Bertone, who had since been promoted to Vatican secretary of state, equivalent to prime minister, regretting that Murphy's family had disobeyed his instructions that the funeral be small and private. He added: "In spite of these difficulties, we are still hoping we can avoid undue publicity that would be negative toward the church."

School of horror

An angel holding up a scroll on a pillar at the drive entrance is the only hint of what once went on at 3680 South Kinnickinnic Avenue in St Francis, on the shores of Lake Michigan. Until 1983, it was a boarding school for deaf boys. Until nine years before that it was the fiefdom of one of the most rapacious paedophiles ever to wear a cassock.

When in 2006 the truth about the late Father Lawrence Murphy eventually began to come out, 62-year-old James Smith, of Orange City, Florida, shook and wept as he recounted his experiences to a Milwaukee Journal Sentinel reporter.

"I would be playing baseball, and the boys would come and say, 'Father Murphy wants you to come and see him'. I would refuse to go, and pretty soon I was dragged into his office and molested again," said Smith.

The Wisconsin scandal brings the Catholic church's paedophilia crisis full circle. The current crisis started in Boston at the turn of the century with the revelations by the Boston Globe of the devastating extent to which the US Catholic hierarchy helped conceal the clerical sexual abuse of minors. More recently, allegations have hit the church in Germany, Austria, the Netherlands, and Ireland.

By 2002 about 1,200 Catholic priests in the US faced abuse accusations. The outcry surrounding the mishandling of abuse claims led to five prelates stepping down in one year alone. The Archbishop of Boston, Cardinal Bernard Law, arguably the most powerful Catholic official at the time, was the most high-profile departure.

Somehow, despite bringing shame on the church, John Paul II gave the disgraced cardinal and archbishop a position in Rome – the Archpriest of the Santa Basilica Maria di Maggiore – an act that mystifies and angers victims and support groups to this day.

Source: guardian.co.uk