Syrian government forces killed more than 60 people on Tuesday in assaults on villages and an artillery barrage in the restive city of Homs, activists said, and the Red Cross called for daily ceasefires to let in urgently needed aid.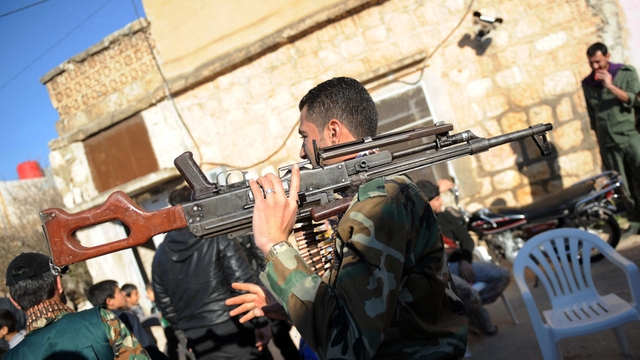 Syrian government forces killed more than 60 people on Tuesday in assaults on villages and an artillery barrage in the restive city of Homs, activists said, and the Red Cross called for daily ceasefires to let in urgently needed aid.

Activists said at least 30 people died in the bombardment of the Baba Amro neighborhood of Homs city, and at least 33 were killed when forces trying to crush opposition to President Bashar al-Assad stormed villages in northern Idlib province.

In Damascus, security forces opened fire on demonstrators overnight, wounding at least four, activists said. Violence in has hit the capital over the past week, undermining Assad's assertion that the 11-month-old uprising against his rule is limited to the provinces and the work of saboteurs.

Activist accounts of the violence could not be confirmed. The government bars most foreign journalists from Syria.

The International Committee of the Red Cross said it had asked authorities and rebels to agree daily ceasefires so life-saving aid can reach civilians in hard-hit areas including Homs.

"It should last at least two hours every day, so that ICRC staff and Syrian Arab Red Crescent volunteers have enough time to deliver aid and evacuate the wounded and the sick," ICRC President Jakob Kellenberger said.

Western and Arab powers that are openly seeking Assad's downfall are preparing for the inaugural meeting of a "Friends of Syria" contact group in Tunisia on Friday.

Russia and China back Assad's own program for reforms, which includes plans for a referendum on Sunday on a new constitution which would lead to elections in 90 days. Assad says this should satisfy demands for more democracy; his opponents say the proposals are a sham.

Russia said it would not attend the "Friends of Syria" meeting because the Syrian government would not be represented. The Russian Foreign Ministry suggested the U.N. Security Council should send a special humanitarian envoy to Syria.

Russia and China have faced Western and Arab criticism for blocking U.N. action against Syria. A former Syrian Defence Ministry auditor who defected in January told Reuters Moscow's arms sales to Damascus - nearly $1 billion last year - had increased since the start of the uprising.

Lebanon, which has tried to distance itself from the turmoil across its border, will also stay away from the Tunis meeting, its foreign minister said.

Activists said government forces launched the artillery attack on Homs after rebel fighters holding the opposition Baba Amro district blocked troops from entering.

"Several shells are falling each minute," activist Nader al-Husseini told Reuters from the district, adding that at least two children were among the victims.

Another activist in the city said: "We have now at least 30 killed. One family is among them." A third said: "Others are still buried. Today the shelling is very fierce."

The British-based opposition Syrian Observatory for Human Rights said security forces had stormed villages in Idlib province in the north of the country.

"The army stormed the village of Abdita and chased people in Iblin and Balshoon. They killed 33 people. All are civilians," the group said.

Activists in Homs said government forces backed by armour have been closing in on Baba Amro, a mainly Sunni Muslim neighborhood, since the offensive on the city began on Feb 3.

Much of the opposition to Assad comes from the Sunni majority, while much of his support comes from minorities including his Alawite sect, raising worries that violence could take on a sectarian slant and draw in neighboring countries.

Tanks are deployed in the Inshaat district next to Baba Amro, opposition sources said. The Observatory said a convoy of more than 50 armored vehicles was seen heading from Damascus towards Homs.

A city of one million people on the Damascus-Aleppo highway, Homs has been at the heart of the uprising against Assad's 11-year rule. Residents say they are running short of medicine and food, and are massed together in crowded homes to seek shelter.

Government curbs on access make it hard to verify details of fighting there but international rights and aid organizations say hundreds of people have been killed in recent weeks in Homs.

UNDER FIRE IN DAMASCUS

Assad says the revolt is the work of foreign-backed terrorists. Until recently it was limited mainly to the provinces, but anti-government rallies have drawn crowds in Damascus in recent days. On Monday night at least four people were wounded when security forces opened fire, activists said.

"There were hundreds of demonstrators at the main square of Hajar al-Aswad (neighborhood) and suddenly buses of security police and shabbiha (pro-Assad militia) turned up and started firing into the crowd," activist Abu Abdallah said by telephone.

Footage posted on YouTube, purportedly taken before the shooting, showed a crowd marching in Hajar al-Aswad carrying placards in support of besieged Homs and singing "Eyes are shedding tears for the martyrs among Syria's youth."

Elsewhere, an activist group in Kfar Tkharim near the Turkish border said rebel fighters had killed five soldiers and captured two in an ambush on a government column.

An activist in al-Qusair, about 32 km (20 miles) southwest of Homs and close to the Lebanese border, said five people were killed and eight wounded when the northern part of the town came under heavy fire from army mortars and T-72 tanks.

"People in that area are hiding in their homes, they can't leave. Others are resisting. Those who are farther away are fleeing the town. Some people are so scared they're trying to leave anyway even if they are close to the fire," Abu Ansa told Reuters by telephone.

Activists in the western city of Hama said troops, police and militias had set up dozens of roadblocks, cutting neighborhoods off from each other.

Ahmad Ramadan, a leader of the opposition Syrian National Council, said Assad loyalists killed his brother Mahmoud when they riddled his car with gunfire in his home city of Aleppo.

"The regime has been accusing Mahmoud of sending food and medicine to Homs and he was receiving daily threats. He was hit in the head and neck and died immediately," Ramadan told al-Jazeera Arabic news channel.

MESSAGE TO CHINA, RUSSIA

Western and Arab nations who want Assad to relinquish power are preparing an explicit gesture of support for his opponents.

U.S. Secretary of State Hillary Clinton said the Friends of Syria meeting would show that his government was increasingly isolated and offer support for "the brave Syrian people."

"We'll send a clear message to Russia, China and others who are still unsure about how to handle the increasing violence but are up until now unfortunately making the wrong choices," Clinton said in Mexico at a meeting of the G20 world powers.

However, it was unlikely the Western and Arab nations will formally recognize the Syrian opposition during the meeting.

Lebanese Druze leader Walid Jumblatt, who has sharpened his criticism of Assad, condemned the Syrian leader's plan for a referendum on a new constitution, saying Sunday's vote would be held "while the souls of corpses and the dust settle in Homs."

One firm ally of Assad is Iran. Iranian television reported on Monday that two Iranian warships had docked in Syria to provide training for Syrian naval forces. Washington said on Tuesday it had no indication that the report was true.