Suspected Brazilian gang members burnt cars and buses in Rio de Janeiro on Wednesday in a fourth day of violence, defying a heavy police presence and raids on slum communities that killed 13 people.
(REUTERS)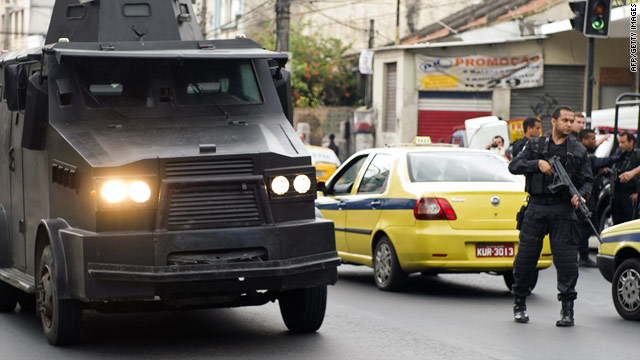 The wave of violence has raised further doubts about Rio's ability to safely host the soccer World Cup in 2014 and the Olympic Games in 2016 and marred the image of a city known for its beaches and easy-going tropical lifestyle.

Attackers set fire to at least 15 cars and buses after forcing their occupants out on Tuesday night and Wednesday morning.

Rio police reported that 13 suspected drug traffickers were killed on Wednesday in clashes with police while 25 people were arrested on charges they were linked to violence.

Gunmen opened fire on at least one police station, following a similar attack earlier this week.


The violence began on Sunday with attacks on police stations and burning of vehicles, actions Rio's top security official said were ordered by imprisoned gang members.

Authorities say the attacks are a protest by traffickers after being forced from their turf by police occupations of more than a dozen slums in the past two years.

"This is a desperate attempt to weaken our security efforts," Sergio Cabral, governor of the state of Rio de Janeiro, told local radio. "What they want is to create panic, for society to retreat, but we will not retreat."

Police continued to conduct raids on suspected drug traffickers in slums.

Hundreds of poor communities in the city of 6 million people are still so violent that police and state authorities cannot enter.

Gang violence has spilt over several times since Rio was awarded the 2016 Olympic Games in October 2009. Gang members shot down a police helicopter weeks later, sparking police raids and violence that resulted in 30 deaths.
In August, gunmen from a slum armed with automatic weapons and grenades invaded a five-star hotel in one of Rio's richest neighbourhoods and held 35 people hostage for two hours.

(Additional reporting by Pedro Fonseca, Writing by Brian Ellsworth; Editing by John O'Callaghan and Jackie Frank)