Mitt Romney captured the nation's first primary election Tuesday, withstanding both stepped-up attacks by his Republican opponents and late slippage among voters. Mitt Romney captured the nation's first primary election Tuesday, withstanding both stepped-up attacks by his Republican opponents and late slippage among voters.
MANCHESTER, N.H. – Mitt Romney captured the nation's first primary election Tuesday, withstanding both stepped-up attacks by his Republican opponents and late slippage among voters.

"Thank you New Hampshire. Tonight we made history," Romney told well-wishers, flanked by wife Ann and the couple's sons. "Tonight we celebrate, tomorrow we go back to work."

Romney is the first Republican to sweep the first two contests in a competitive race since Iowa gained the lead-off spot in presidential campaigns in 1976. His win here the stage for a potentially bloody battle in the next GOP battleground state, South Carolina, which holds its primary Jan. 21.

With 65% of precincts reporting, the former Massachusetts governor had 38% of the vote, followed by Texas Rep. Ron Paul with 24% and former Utah governor Jon Huntsman with 17%. Former House speaker Newt Gingrich and former Pennsylvania senator Rick Santorum trailed with 10% each. Texas Gov. Rick Perry lagged with less than 1%.

The battle for second was won with surprising ease by the quirky populist Paul, who easily beat a surging Huntsman and Santorum, the runner-up to Romney at last week's Iowa caucuses.

"I sort of have to chuckle when they describe you and me as being dangerous,'' a jubilant Paul told supporters here. "That's the one thing they are telling the truth. We are dangerous to the status quo of this country."

Like Paul, Huntsman said he was setting his sights on winning the upcoming GOP primary in South Carolina. "As we look at the numbers now, we're in a strong, confident position — and all eyes are going to be south (on South Carolina) from here," he told CNN.

Despite their lagging results Tuesday, Santorum and Gingrich both told supporters that they would remain in the race. There are lots of contests still to come, Santorum told reporters earlier in Manchester. "There's going to be lots of opportunities to rise and fall," he said.

The economy was the top concern of New Hampshire voters, according to results of an exit poll conducted by Edison Research for the Associated Press and TV networks. In addition, about a third of them said their main criterion in picking a candidate was finding one who can defeat President Obama in this fall's elections. The survey was conducted at 40 random sites here, and the preliminary results are based on interviews with 1,774 voters. The poll has a margin of error of +/-4 percentage points.

Romney's victory speech focused on Obama for his economic policies.

"The last three years have lot of change, but they haven't offered much hope. We know it must be better and it will be better. That conviction guides our campaign. Americans know that our future is brighter and better than these troubled times. The president has run out of ideas. Now he's running out of excuses."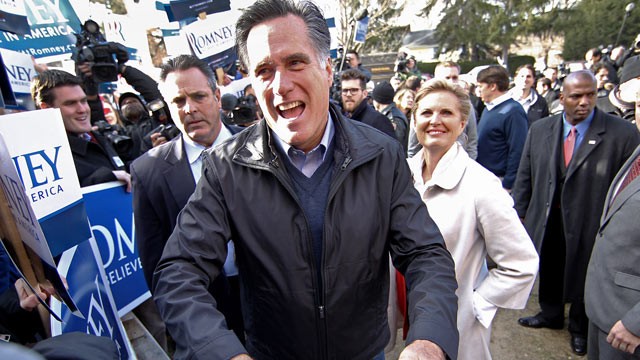 Romney has spent the last two days explaining and defending an offhand comment that he likes "being able to fire people." Critics pulled Romney's firing quote out of context to reinforce a withering assault on him for his role in the private equity firm Bain Capital, that took over companies and sometimes laid off workers.

Romney won easily among people considering themselves Republicans and conservatives, and did nearly as well among moderates. He shared the lead among independent voters with Paul.

Shannon Taber, 37, a bartender, voted for Romney because she said she's looking for "basically someone who can beat Obama."

She said she likes Romney's experience and the fact that polls show he's got support. As a Republican, she feels "it's time to band together and pick someone."

Kevin Langelier, 42, an unemployed accountant, said he liked Romney when he was governor of Massachusetts.


"He's got a successful career as a businessman and I think he can do a lot for the economy," Langelier said. "I think he can beat Obama. I don't think anyone else is electable."

In the tiny town of Dixville Notch, which voted shortly after midnight, Romney and Huntsman tied for first place with two votes each. Gingrich and Paul got one vote each.

Santorum, who rocketed to prominence with a virtual tie with Romney in Iowa, said there wasn't time enough to capitalize on that momentum before New Hampshire's primary and that he would be content to pull a double-digit percentage of the votes.

A former ambassador to China in the Obama administration, Huntsman spent the final 48 hours trying to capitalize on a notable debate exchange with Romney. A relentless critic of Obama, Romney had criticized Huntsman for serving in Obama's administration. Huntsman countered that he had put his country ahead of partisan politics.

Huntsman aired a new TV ad highlighting his call for national unity and adopted a new campaign slogan, borrowing "Country First" from 2008 GOP nominee McCain.

Perry joined the Romney bashing that intensified over the past few days from South Carolina, where he's been campaigning before the next primary there. He compared his GOP rival and the private equity firm he once headed to "vultures" who go after ailing companies as their prey.

"They're basically just vultures," Perry said, according to MSNBC's First Read blog. They wait "for companies to get sick; they swoop in; they eat the carcass."

Perry has staked his candidacy on portraying himself as the Washington and Wall Street outsider in the GOP field. He's banking on support from social conservatives, who play a key role in South Carolina primaries.


Perry already had South Carolina campaign events Tuesday in Rock Hill and Fort Mill, and will host another one Tuesday night at a barbecue restaurant in Leesville.

Meanwhile, the "super PAC" supporting Romney is going big in Florida, bringing its total spending so far in the presidential campaign to "$7 million and counting."

MSNBC reported ad spending figures in the First Read blog on Tuesday. The cable network is partnering with Smart Media Group Delta, an ad-tracking firm, to determine spending by these independent political action committees.

Restore Our Future, the "super PAC" supporting Romney, has put down $1.7 million in Florida, which holds its primary on Jan. 31. The group invested heavily in Iowa and ran ads attacking Gingrich, causing him to finish fourth in last week's caucuses.


The spending by Restore Our Future, which is run by former aides to Romney, is double the amount spent so far on ads by Make Us Great Again, a super PAC supporting Perry.

By comparison, MSNBC reports, Romney's campaign has spent $5.5 million in advertising.

The figures don't include a $3.4 million buy in South Carolina by Winning Our Future, the super PAC backing Gingrich.

Super PACs can raise and spend unlimited amounts of money from wealthy individuals, corporations and unions. Under the law, they cannot coordinate their activities with the candidates they support.