Pakistan lurched into a fresh crisis after an outspoken secular politician was shot dead by a fanatic who opposed reform of the country's draconian blasphemy laws. Punjab's governor, Salman Taseer, was gunned down by one of his own bodyguards as he stepped from his car in Islamabad's Kohsar market, a favoured haunt of westerners and wealthy Pakistanis.
(GURDIAN)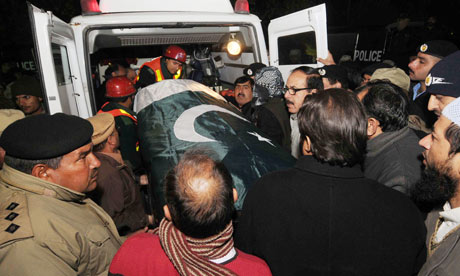 Pakistan lurched into a fresh crisis after an outspoken secular politician was shot dead by a fanatic who opposed reform of the country's draconian blasphemy laws.

Punjab's governor, Salman Taseer, was gunned down by one of his own bodyguards as he stepped from his car in Islamabad's Kohsar market, a favoured haunt of westerners and wealthy Pakistanis.The assassin, who belonged to an elite police force tasked with protecting Taseer, shot the governor at least nine times before dropping his weapon and surrendering to colleagues. Officials named him as Mumtaz Qadri.

"A guard jumped out of a car with a flashing light on top of it. He pointed his Kalashnikov at [Taseer's] window and blasted it," said one witness.


As he was led away Qadri, a 26-year-old with a curly beard, told photographers he was "proud" to have killed Taseer because he was a "blasphemer".

Taseer's death is a blow to Pakistan's embattled liberal minority and comes at a disastrous moment for the ruling Pakistan Peoples party, which lost its parliamentary majority at the weekend.

As tributes to the slain politician flowed in from across the political spectrum, dazed Pakistanis struggled to come to terms with the death of another political leader, just three years after the assassination of Benazir Bhutto.


"This is a clear and present danger; it shows how deep the problems of Pakistani society are," said Sherry Rehman, a PPP politician who shared many of Taseer's convictions. "If we don't act now, this tide will swallow us whole."

A sharp and often combative politician, Taseer never shied from a fight and aggressively used Twitter to air his uncompromising views, especially against increasingly powerful extremist forces.

Last month he publicly supported Aasia Bibi, a Christian woman and mother of three who has been sentenced to death for allegedly insulting the prophet Muhammad. Bibi's case has triggered a fresh debate around the blasphemy laws, which human rights groups say are frequently abused to settle scores or target minorities.

But religious groups staunchly oppose any change, and extremists preachers have offered a reward for the death of Bibi. Meanwhile most politicians, with the exception of Taseer and Rehman, remained quiet on the issue, even within the ruling PPP.


Enraged PPP supporters took to the streets across Pakistan, chanting slogans and weeping. A procession of ashen-faced ministers and officials trailed into the Islamabad hospital where Taseer's body was taken after the shooting. "These are the forces that are ranged against us," said Latif Khosa, a former attorney general. "Every time our party comes to power, its leaders are assassinated or disappear."

Raza Anjum, a young British councillor who recently met Taseer to lobby for Aasia Bibi, said his death was a big blow to "all who are working for an enlightened and progressive Pakistan".

The attack has strong echoes with the 1984 assassination of Indian premier Indira Gandhi, who was shot by two of her own Sikh bodyguards as she walked to an interview with actor Peter Ustinov.

In recent interviews Taseer acknowledged his life was in danger but apparently did not anticipate a threat from within the ranks of his putative protectors. The interior minister, Rehman Malik, said an investigation conducted by police and the ISI intelligence agency would determine whether Qadri was acting alone or in concert with other extremists.

From a small village outside Islamabad, Qadri was a member of the crack Elite Punjab police unit, whose commandos are known for wearing T-shirts emblazoned with the slogan "No Fear."

On the internet, Taseer's death provoked a deluge of shared grief on sites such as Twitter and Facebook. But it also highlighted the number of Pakistanis who celebrated the death as a victory for efforts to defend the blasphemy law. Within hours a Facebook page appeared in support of Qadri; by mid-evening it had over 1,000 followers.

Mohammad Hanif, a leading novelist, said colleagues at the BBC in Karachi had randomly polled people on the street about the shooting. "Everyone approves," he said on Twitter.

"Religion has become more and more divisive; there is no tolerance," said Talat Masood, a retired general and commentator. "Our society needs to be completely re-orientated."

President Asif Ali Zardari declared a three-day period of mourning for Taseer, which may also give him some political breathing room.


The government is fighting for survival since a coalition party, the Muttahida Qaumi Mohajir, defected to the opposition benches last weekend. Intense backroom talks are under way to bring the MQM back into the fold; otherwise the government could collapse.

Salman Taseer was never one to apologise for who he was or where he came from. Rising from modest beginnings to become a business tycoon, his brash style served him well. But in Pakistan's dangerous game of politics, it led to his death.

Two months ago, in defiance of the prevailing political winds, Taseer paid a visit to Aasia Bibi, a Christian woman sentenced to death under the country's harsh blasphemy law.

Other politicians shunned Bibi, fearing the religious backlash; Taseer insisted on being photographed with her. Then he took his campaign to Twitter.

"Unimpressed by mullah rightest [sic] madrasa demo yesterday," he wrote on 1 January. "No general support."

It was a typically principled stand from a born-again politician with an abundance of enemies and admirers who thrived in the Punjab, Pakistan's most turbulent political hothouse.
The 56-year-old Lahore native had long-standing ties to the Bhutto-led Pakistan Peoples party, and did stretches in the torture cells of the military dictator General Zia-ul-Haq during the 1980s. His ardour for politics dimmed in the 1990s after several failed attempts to get elected and he turned to making money, where he did better.

Taseer built a small empire including accountancy and management firms, a television station, a newspaper and a telecommunications company. But he was drawn back to politics in 2008 when Pakistan's president, Asif Ali Zardari, appointed him governor of Punjab, Pakistan's most populous and wealthiest province.

Taseer quickly carved out a role as Zardari's attack dog against the Sharif family, which is also based in Lahore. He developed a taste for Twitter, using it to launch pithy, and often witty, barbs against opponents. Taseer also injected glamour into the job.

The wedding of a son on the lawns of the sweeping governor's residence in central Lahore was celebrated with lavish photo spreads in Good Times, Pakistan's version of Hello! magazine – which Taseer happened to own. His children came in for less welcome attention when leaked Facebook pictures of his daughters in swimsuits spread across the internet.

Taseer's death deprives Pakistan of a colourful politician with unusual reserves of pluck. More significantly, it signals a worrying reduction in the public space for public figures, who cannot even count on their own police to protect them. The country's liberals have not felt so isolated since the dark years of the Zia dictatorship in the 1980s.

In one of his last tweets, Taseer wrote: "I was under huge pressure 2 cow down b4 rightest pressure on blasphemy. Refused. Even if I'm the last man standing."

It was a darkly prophetic comment.