Tropical Storm Isaac swirled over the Caribbean on Wednesday and was forecast to become a hurricane as it moved on a track that would put it off the coast of Florida on Monday, the opening day of the Republican National Convention in Tampa.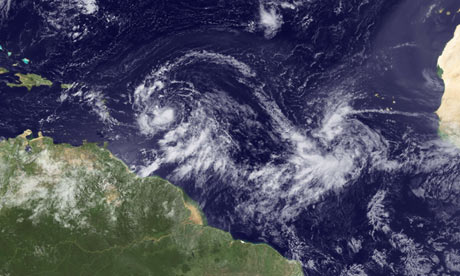 * Isaac forecast to become hurricane on Thursday

* Tampa mayor plays down threat to Republican convention

* Storm cancels Guantanamo hearings in 9/11 case

Tropical Storm Isaac swirled over the Caribbean on Wednesday and was forecast to become a hurricane as it moved on a track that would put it off the coast of Florida on Monday, the opening day of the Republican National Convention in Tampa.

The center of Isaac moved through the Leeward Islands and hurricane watches were in effect across parts of the Caribbean, including Puerto Rico, Haiti and the U.S. and British Virgin Islands.

Isaac could also threaten U.S. energy interests in the Gulf of Mexico, weather experts said. It was centered about 65 miles (110 kilometres) southwest of the French Caribbean island of Guadeloupe Wednesday evening, the U.S. National Hurricane Center said.

Isaac had top sustained winds of 45 miles per hour (75 kph) and could strengthen into a hurricane on Thursday night, as it neared the coast of Hispaniola, the island shared by the Dominican Republic and flood-prone Haiti. Computer forecast models showed the storm moving west-northwest across the island on Friday, posing a severe risk of mudslides on Haiti's denuded hillsides.

Isaac was projected to weaken to a tropical storm as it moves over Cuba on Saturday and Sunday but it was uncertain exactly where it would go after that.

Some computer models showed it returning to hurricane strength and making landfall somewhere in South Florida by late Sunday or early Monday. Others forecast it tracking through the Gulf of Mexico and moving parallel to Florida's western coastline.

At the Guantanamo Bay U.S. Naval Base in southeast Cuba on Wednesday, authorities said Isaac forced the postponement of pretrial hearings that were to begin on Thursday for five prisoners accused of plotting the Sept. 11 attacks.

The U.S. military was preparing evacuation flights for Thursday for the lawyers, paralegals, interpreters, journalists, rights monitors and family members of 9/11 victims who had traveled to the base for the hearings.

REPUBLICAN CONVENTION

Forecasters said it was too soon to gauge Isaac's potential impact on Tampa on Florida's Gulf Coast, where the Republican National Convention is to run from Monday through Thursday.

But Lixion Avila, a senior hurricane specialist at the Miami-based hurricane center, suggested it would be foolish for anyone to think Tampa - where Republicans will nominate Mitt Romney as their presidential candidate -- was out of harm's way.

"With the convention or without the convention, I can tell you this is Aug. 22, hurricane season, and normally anywhere in Florida or the Gulf of Mexico we should monitor any system that forms," he said.

Tampa Mayor Bob Buckhorn, a Democrat, said he wasn't really worried about Isaac, however.

"We're watching it. We're tracking it. I think we're going to be OK but we'll be prepared in the event it heads this way," Buckhorn told CNN.

"We hope it moves further away from us, but if it doesn't it's still going to be a great convention," he said.

Hurricane expert Jeff Masters of private forecaster Weather Underground said Tampa had a 9 percent chance of getting hit with tropical storm-force winds for a 24-hour period ending on the morning the Republican convention kicks off. But that could make the storm a non-event in terms of the convention itself.

"I put the odds of an evacuation occurring during the convention in the current situation at 3 percent," Masters said in his blog on the weatherunderground.com website.

OJ PRICE JUMP

Florida has not been hit by a major hurricane since 2005 and forecasts showed Isaac was not expected to strengthen beyond a weak Category 1, with top sustained wind speeds of about 80 mph (129 kph).

Analysts at Weather Insight, a Thomson Reuters company, said Isaac has a 50 percent probability of moving into the heart of the Gulf of Mexico oil and gas production region.

The threat to Florida triggered a nearly 6 percent jump in orange juice prices on Wednesday, as they surged to a six-week high in trading in New York.

Florida produces more than 75 percent of the U.S. orange crop and accounts for about 40 percent of the world's orange juice supply, making it key to volatility in orange juice futures trading.

The Atlantic hurricane season runs from June 1 through Nov. 30, and August has traditionally been an active month in the six-month period. Friday is the 20th anniversary of Hurricane Andrew, which caused widespread damage when it came barreling ashore south of Miami on Aug. 24, 1992.

On Thursday, Isaac is expected to pass just south of Puerto Rico. As the storm approached, Puerto Rico Gov. Luis Fortuno declared a state of emergency, canceled classes, closed government agencies and activated the National Guard.

The government also froze prices on basic necessities like food, batteries and other supplies and prepared emergency shelters at schools and other facilities.

Lurking behind Isaac, the NHC said another tropical depression formed over the eastern tropical Atlantic on Wednesday, about 860 miles (1,385 km) west-southwest of the Cape Verde Islands. It was packing winds of 35 mph (56 kph) and will take the name Joyce if it becomes a tropical storm.