A tornado struck a manufacturing plant on the southeast side of Hopkinsville, Kentucky, on Monday afternoon, an emergency manager from Christian County said.
A tornado struck a manufacturing plant on the southeast side of Hopkinsville, Kentucky, on Monday afternoon, an emergency manager from Christian County said.
Hopkinsville police are reporting storm damage and seven injured people Monday afternoon at the Tg Automotive Sealing Kentucky (TGASK) on Frank Yost Boulevard in Christian County, Ky.

Paul Ray with the Hopkinsville Police Department said those injured sustained non-life threatening injuries and were taken to a local hospital.

All 184 TGASK employees are accounted. All operations were shut down and utilities were turned off at the plant.

Ray said there was a lot of structural damage to the facility, which manufactures weather sealing components for vehicles. The plant opened in Hopkinsville in 2003.

A tornado warning is in effect for Logan, Simpson and Robertson counties until 1:15 p.m.

At 12: 36 p.m., radar indicated a severe thunderstorm capable of producing a tornado. This dangerous storm was located near Guthrie, or eight miles northeast of Carksville, and moving east at 70 mph.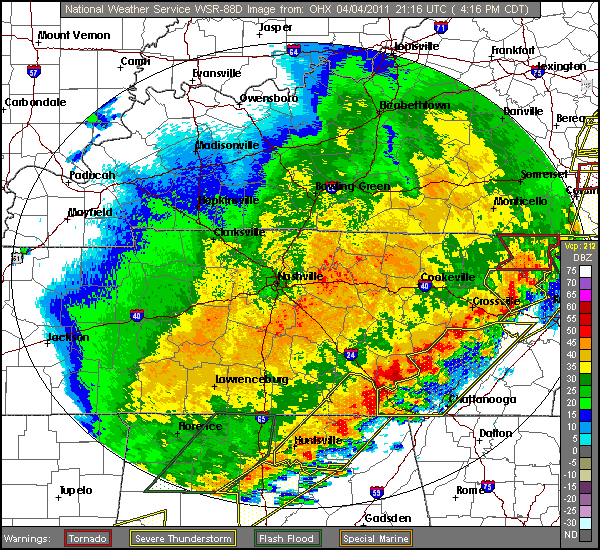 Clarksville Weather Radio Transmitter Damaged

The transmitter that sends out severe weather info to weather radios in Clarksville was damaged Monday when a county waste truck made contact with the weather tower, according to Montgomery County Sheriff's Department spokesman Ted Denny.

Weather radio users need to recalibrate their radios to 162.55 or 162.4.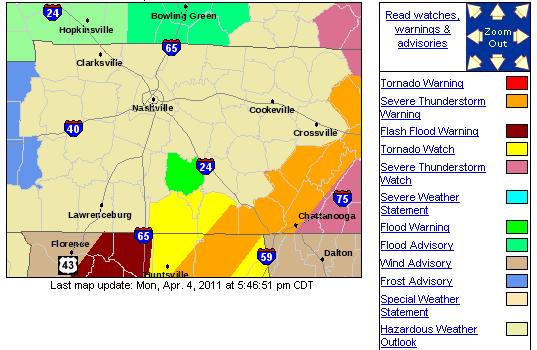 Severe Weather Threat Through This Evening

The severe storms prediction center has placed a large part of Middle Tennessee under a moderate risk for severe thunderstorms today and this evening.

Metro's Office of Emergency Management has called for a partial activation of the Emergency Operations Center effective at noon in anticipation of the storms.

A tornado watch is in effect until 3 p.m. for Benton, Houston, Humphreys, Montgomery and Stewart counties.

Channel 4 Pinpoint Meteorologist Paul Heggen said strong winds are the biggest threat from these storms with a moderate chance for hail and also isolated tornadoes.

As a strong cold front pushes into the area later today, thunderstorms will spread across the mid state. Some will likely become severe, with damaging winds and large hail. Isolated tornadoes are also possible.

Thunderstorms tend to be strongest during the afternoon and evening during the warmest part of the day, and that is exactly when most of the storms are forecast to sweep across the mid state.

Even before the thunderstorms arrive, winds will be strong, and could gust as high as 40 mph. Winds this strong are capable of downing trees, and breaking large branches, and a wind advisory remains in effect until 7 p.m. this evening. Those driving high profile vehicles today should plan for strong cross winds.

Along with the severe thunderstorms, heavy rainfall is also likely. Many areas could see between one and a half and two inches of rain, with localized amounts around three inches possible. Since much of this rain will likely fall in a short period of time, localized flood problems may develop.
WSMV