Student might have been dared to jump by fellow classmates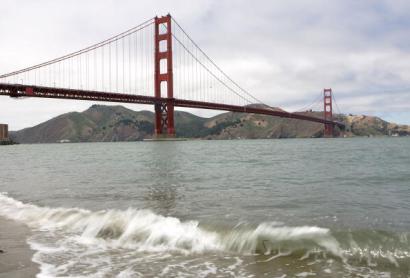 Student might have been dared to jump by fellow classmates

A field trip that included a walk along the Golden Gate Bridge ended with a student jumping off the bridge Thursday morning.

The unnamed student survived and was taken to San Francisco General Hospital, where he was reportedly being treated for injuries "including a broken tailbone and torn lung." The boy's only complaint was soreness and some bruising.

Witnesses said surfers came to his rescue and helped him to shore.

CBS 5 reporter Joe Vazquez tweeted that the jump was not a suicide attempt, but instead was done on a dare by fellow students. Vazquez spoke to a surfer who said the classmates were cheering the boy as he jumpe
d.

The student did not jump from the center of the bridge. He went over the edge from an area between Fort Point and the South tower, which is about 220-feet above the water.

There were about 45 students and two teachers from Windsor High School in Sonoma County taking part in a field trip. At least two of the students tweeted about the jump while they were still on the field trip.

The school said counselors were on hand to assist anyone on the trip that may have been traumatized by the incident, according to a press release from the school.
NBC Bay Area