'I have more to do for this country,' Venezuelan president pleads at pre-Easter mass after latest round of treatment in Cuba
'I have more to do for this country,' Venezuelan president pleads at pre-Easter mass after latest round of treatment in Cuba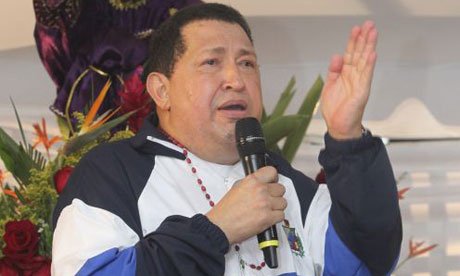 A tearful Hugo Chávez has prayed for God to spare his life as he attended a pre-Easter mass on returning from cancer treatment in Cuba.

The Venezuelan president wept in a televised speech from the Catholic service in his home state of Barinas. His voice broke as he eulogised Jesus, the revolutionary fighter Che Guevara and the South American independence hero Simon Bolívar.

"Give me your crown, Jesus. Give me your cross, your thorns so that I may bleed. But give me life, because I have more to do for this country and these people. Do not take me yet," Chávez said, standing below an image of Jesus with the Crucifix.

Chávez said he had held faith that his cancer would not return after his first two operations last year – which removed a baseball sized tumour from his pelvis – but it did.

"Today I have more faith than yesterday," he said. "Life has been a hurricane ... but a couple of years ago my life began to become not my own any more. Who said the path of revolution would be easy?"

Very little is known about the 57-year-old president's condition, including even what type of cancer he has. Chávez has undergone three operations in less than a year and received two sessions of radiotherapy.

He has said the latest surgery was successful, that he is recovering well and will be fit to win a new six-year term at an election in October. But big questions remain about his future and on Thursday the strain appeared to show.

"Never forget that we are the children of giants ... I could not avoid some tears," the former soldier said as his parents and other relatives looked on from the church rows.

Chávez soon seemed to recover his composure, joking with his brother Adan in the congregation that few people were watching because it was Easter, when Venezuelans typically hit the beach.

After 13 years of his rule over the continent's biggest oil exporter, Chávez's sickness has thrown its politics into turmoil in the run-up to the election on 7 October.

Flying back and forth to Havana for treatment, Chávez has been forced to run a kind of virtual campaign via Twitter and appearances on state television, while his opposition rival Henrique Capriles tours the country.

He returned to Barinas late on Wednesday from Havana, where he had undergone a second session of radiotherapy. He said it went well and that all the test results had been positive.

But in the absence of detailed information on his condition, Venezuelans have hunted for clues in his appearance each time he is on state TV. One local news website ran a large photo of his heavily perspiring brow after he disembarked from the jet.

One Venezuelan opposition journalist who has broken news on Chávez's condition in the past reported that his medical team continued to disagree among themselves over the best course, and a Brazilian blogger said he might travel there for treatment.

Capriles has mostly kept quiet about the president's illness, preferring to wish him a speedy recovery so that he can beat him in a fair fight at the polls.

But the youthful state governor has criticised Chávez for choosing to be treated abroad, saying it sends a bad message to ordinary Venezuelans if he does not trust local doctors.

Capriles, 39, took issue this week with repeated comments by Chávez and his allies that Jesus must have been a fellow leftist radical. "This theme is an obsession of the eternal candidate," Capriles said on Twitter, referring to Chávez. "This holy week we should remember Christ was neither socialist nor capitalist."

In the latest opinion poll released last month the president had a solid 13 percentage point lead over Capriles, but many voters remained undecided.