GOP leaders 'recognize' that averting default through a vote to approve a higher debt limit is necessary, Treasury's Tim Geithner says, with or without a deal on budget cuts. But Republicans push back, unwilling to give up the debt-ceiling vote as leverage.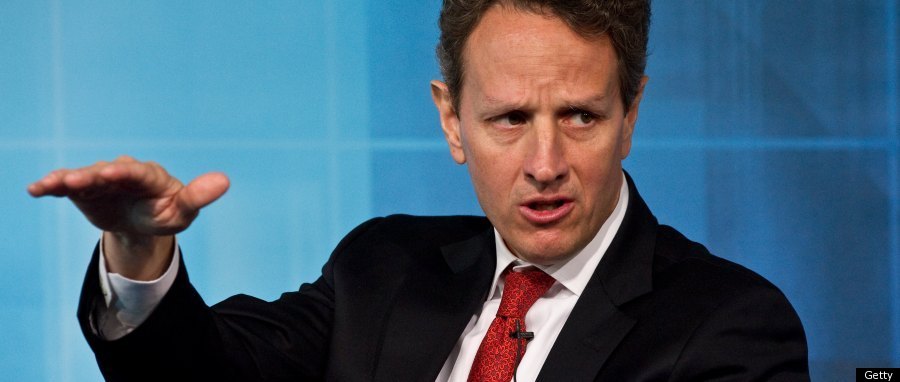 Reporting from Washington— Treasury Secretary Timothy F. Geithner says Republican leaders have assured the president that they believe Congress needs to raise the debt limit and that "you can't play around" with the possibility of defaulting on the country's obligations.
He said GOP leaders "recognize" that they still had to vote to avert default even if there were no deal on budget cutting by the time the country hit the $14.3-trillion debt limit sometime around the middle of May.

"I heard them say that to the president," Geithner said in a morning broadcast of NBC's "Meet the Press."

Republican lawmakers on the Sunday morning shows pushed back against that idea, indicating they aren't ready to give up the looming debt-ceiling issue as leverage to get President Obama and other Democrats to cut spending.

"Nobody's saying we want to see default," House Budget Chairman Paul Ryan (R-Wis.) said on CBS' "Face the Nation." "We just want some cuts and controls going forward."

The back-and-forth featured dueling concerns for both sides in the contentious budget talks. Each needs to preserve its negotiating position, but neither wants to see concern about the nation's creditworthiness disrupt the markets.

Yet Obama and House Speaker John Boehner (R-Ohio) are still miles apart on how to cut the budget without harming the fragile recovery of the economy. Obama has made it clear he realizes the GOP won't go along with raising the debt ceiling without some more cuts.

But Geithner said Sunday that those talks would proceed on "parallel tracks" and that, ultimately, the U.S. is not at risk of default.

"If by the time we need to raise the debt limit we haven't worked all that out, Congress still has to raise the debt limit," Geithner said, adding that Republican leadership "recognizes that."

Anyone spreading the word on Capitol Hill that they can afford to go "to the brink" on the debt ceiling vote is playing a dangerous game, Geithner said. Those people will "own the responsibility" for that, he said.

Ryan declined to declare spending cuts indepdent from the debt ceiling, however, and said he didn't think of mid-May as the pressure point.

"I don't think May 16 is a hard deadline," Ryan said. "There are things Treasury can do to get more time."

Meanwhile, Sen. Tom Coburn (R-Okla.) was even more specific.

He said on Fox News Sunday that he would vote against raising the debt limit unless there was "absolute certainty" that Congress and the president had made the changes necessary to "put the country back on track."













Los Angeles Times