Residents of in the Central Plains who endured the fury of a series of suspected tornadoes braced hours later for the possibility of another round early Sunday.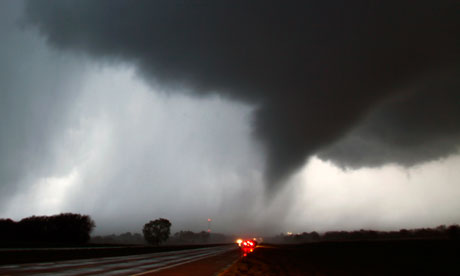 Residents of in the Central Plains who endured the fury of a series of suspected tornadoes braced hours later for the possibility of another round early Sunday.

The National Weather Service received more than 88 reports by late Saturday of tornado touchdowns in Oklahoma, Kansas, Nebraska and Iowa, said Pat Slattery, a spokesman for the service's Central Region in Kansas City, Missouri.

Five people, including two children, died from injuries related to a suspected tornado in the northwest Oklahoma town of Woodward early Sunday morning, said Amy Elliott of the state Medical Examiner's Office.

The tornado outbreak was predicted by the National Weather Service, which said there was a "high risk" of severe thunderstorms into Sunday that put more than 5 million people on alert.

In southwest Iowa, officials evacuated the entire population -- roughly 300 people -- of the town of Thurman after a suspected tornado struck Saturday, damaging or destroying three out of every four homes.

By early Sunday morning, many Thurman residents who took up temporary shelter at a high school in nearby Tabor were again in the path of a storm that spawned suspected tornadoes in neighboring Kansas.

"I can hear the rumbling in the distance. You can see the lightning. Whatever is in Kansas is coming this way," said Mike Crecelius, Fremont County's emergency management director.

A sign in a park that bears the town's name is one of the few things still standing, Crecelius said.

"That's about all there is. About 75% of the homes are damaged or destroyed," Crecelius said. "From the looks of things, there won't be a tree left in that town either."

Across the south and central Plains, storm chasers broadcast images of funnel clouds roaring through rural landscapes.

Residents in some high-risk areas received new warnings intended to grab their attention and prompt them to find safe shelter.

Officials will wait for daybreak to fan out across the four states to confirm tornado touchdowns.

In Wichita, Kansas -- the largest city stuck by a suspected twister -- officials worked through the night to determine the scope of the damage. More than 20,000 customers were without power.

In the basement of 30-year-old Lacy Jay Hansen's home, she and her family donned bicycle helmets and crouched against a corner as a suspected tornado churned its way toward her home in downtown Wichita.

"It turned right in the nick of time for us, striking this other neighborhood," she said. "But now there are other people we know and love in the path of it."

Through text messages and tweets, the Hansens learned that the storm that spared their house destroyed a friend's house several miles away.

Eleven months ago, Hansen, her husband and son were in Joplin, Missouri, visiting their ailing grandfather in a hospital when a tornado ripped through, killing 158 people.

"None of us were supposed to be there," she said. "We've always taken it seriously. But ever since then, we take it more seriously."

The tornado that tore through Joplin was one of 1,691 tornadoes that killed a total of 550 people in 2011, according to the National Weather Service. Last year was the 4th deadliest tornado year in U.S. history.

The tragedy in Joplin triggered stronger warnings by the weather service to life-threatening storms. More than 24 hours before the storms began rolling across the Midwest on Saturday, the service was warning residents of the storm's potential damage.

At the Marriott in downtown Wichita, Johnny Williams watched over eight children in an interior ballroom where the group took shelter from the storm.

The group, from Oklahoma City, were in town for a basketball camp when the storm struck.

"We play together as a team, and we believe together as a team," Williams said. "We really believe everything will be all right."

The storm flooded parts of downtown Wichita, said Sharon Watson of Kansas Emergency Management Association. The McConnell Air Force Base, just south of Wichita, also sustained damage, she said.

Affiliate KSNW in Wichita said a roof collapsed at Spirit Aero Systems, which produces fuselages and other equipment for Boeing aircraft.

At the Wichita Mid-Continent Airport, a suspected tornado tossed baggage carts across the runways, overturned jetways and blew out windows, KSNW said.

Earlier, a confirmed tornado struck a hospital in Creston, Iowa, blowing out windows and damaging the roof, John Benson of Iowa Homeland Security and Emergency Management said. There were no major injuries reported, and the patients were relocated to other area hospitals.