Rolling Stone magazine publishes more photos linked to war crimes investigation into members of 5th Stryker Brigade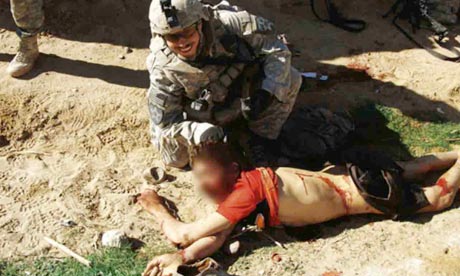 The US army has apologised for any distress caused by recently published photos of soldiers posing with dead Afghans, calling their content disturbing and "in striking contrast" to its standards and values.

Rolling Stone magazine posted graphic images on its website on Monday, about a week after the German news magazine Der Spiegel published three of the pictures. Rolling Stone said the photos were linked to an war crimes investigation involving members of the 5th Stryker Brigade, based south of Seattle.

Five soldiers from the platoon have been charged with murder and conspiracy in the deaths of three unarmed Afghan men last year. Rolling Stone obtained about 150 photos in all, said Eric Bates, the magazine's executive editor. It posted 17 of them on its website, along with two videos it said showed US attacks on Afghans. Bates would not say how the magazine obtained the pictures.

Two of the photos show soldiers Jeremy Morlock and Andrew Holmes crouching alongside an Afghan youth and lifting his head by the hair. Two others show the body of the same Afghan youth, identified by Rolling Stone as Gul Mudin, one of the victims in the case.

Morlock, the first of the five to be court-martialled, was sentenced last week to 24 years in prison after pleading guilty to three counts of murder, as well as conspiracy and other charges. He said the killings were part of a deliberate plan to murder Afghan civilians.

Daniel Conway, Holmes's attorney, said he did not think the latest publication would affect his client's court martial. He said Holmes was ordered by his superiors to pose with the body.

"That photo wasn't his idea," Conway said. "He was a 19-year-old private, and they told him to come over, get in the picture and he got in the picture."

Rolling Stone said the photos were from a cache the army had kept secret, even from defence lawyers in the case, because it feared another scandal like that of Abu Ghraib in Iraq.

Among the photos are pictures of the accused soldiers holding captured weapons as well as gruesome pictures of dismembered bodies that the magazine said were unrelated to the war crimes investigation.

Photographs held by the military in the case were under a protective order that remained in place on Monday, said an army spokeswoman, Kathy Turner.

In its statement, the army expressed its commitment to accountability. "We must allow the judicial process to continue to unfold and be mindful that the government has distinct obligations to the victims and to the accused, which include compliance with the court's protective order to ensure a fair trial," it said.
The Guardian