Hoping to widen the audience for its mini-pronouncements of American policy amid growing unrest in the Middle East, the US state department has begun tweeting in Arabic.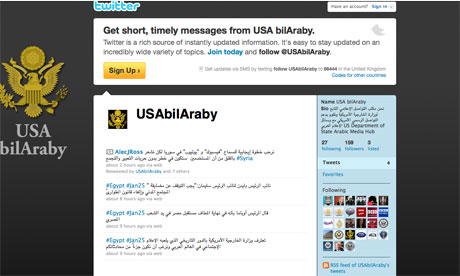 The State Department - already pretty good at social media - is now using Twitter to transmit its thoughts to the Arab world . . . in Arabic.

Foggy Bottom is using @USAbilAraby, which in English means "USA in Arabic." The feed's description says it's the "Department of State Arabic Media Hub."

"The US foreign ministry has recognized the historic role of social media in the Arab world and we want to be part of your conversations," says one of the first tweets.

The account had about 300 followers by midafternoon Wednesday.

Notably, the State Department appears to be using Modern Standard Arabic, a formal, high-register Arabic that is the most common form of expression for media outlets and public and religious officials. In many cases, younger Arab social media users appear to be breaking away from the strict formal expression and use both Arab and Latin-alphabet dialect.

The State Department has several social media voices of its own. Lead spokesman P.J. Crowley is a frequent - and witty - Twitter user (@PJCrowley), who once warned Americans not to travel to North Korea by noting that the United States had only so many former presidents available to rescue them.
WashingtonPost