The death of Osama bin Laden offers a perfect opportunity to revisit the list of the World's Most Wanted. So who still makes it?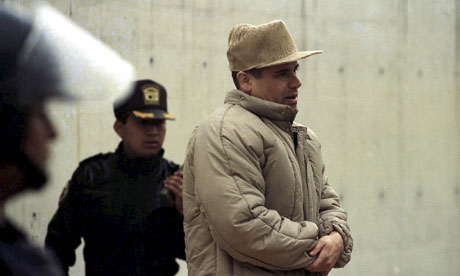 The death of Osama bin Laden offers a perfect opportunity to revisit the list of the World's Most Wanted. So who still makes it?

He wasn't the World's Most Wanted Man. Officially, at least, there's no such thing. But when Osama bin Laden died from a shot to the head and another to the chest sometime between midnight and 1.30am local time on Monday, the man who, in the popular western imagination, held arguably the best – and certainly the best-publicised – claim to be regarded as such left behind him something of a conundrum for those who compile such lists: who could replace him?

It's not such a straightforward question. Leaving aside such niceties as one man's evil terrorist mastermind being another man's blessed freedom fighter, attempting to place in order of importance crimes on the kind of scale that might warrant inclusion in a Top 10 of global iniquity is a task fraught with difficulties. How do you measure a Serbian ethnic cleanser against an American serial killer, dismemberer and necrophile; a Mexican drugs baron against a Rwandan genocide-merchant?

Most lists, sensibly, do not try. The first and perhaps the most famous of all, the FBI's 10 Most Wanted Fugitives – from which Bin Laden was summarily ejected on Monday, his photograph stamped with a blood-red banner and the single word "Deceased" – doesn't rank its members, who are confined to criminals indicted by a US federal grand jury. Bin Laden, indicted in absentia in New York in 1999 for his alleged part in the US embassy bombings in Dar es Salaam and Nairobi the previous year, was a bit of a misfit on that list.

His fellow fugitives were, for the most part, fraudsters, rapists, murderers and drug traffickers, with bounties on their heads ranging from $100,000 to $2m; the reward offered for Bin Laden's capture totalled $27m (£16m). Robert William Fisher, for example, is wanted for allegedly killing his wife and two young children and then blowing up the house in which they all lived in Scottsdale, Arizona in April 2001; Alexis Flores for his alleged involvement in the kidnapping and murder of a five-year-old girl in Philadelphia.

Heinous crimes, but hardly the equivalent of masterminding 9/11. Or indeed, as assorted warrants put it, of "organising a global network committed to bringing down the United States". That explains why the FBI created a separate list in 2001, in the wake of the September 11 attacks: Most Wanted Terrorists. The death of the al-Qaida figurehead leaves 29 people on that list, including his reported deputy, Ayman Al-Zawahiri, founder of the Egyptian Islamic Jihad and also indicted for the US embassy bombings; Fahd Mohammed Ahmed al-Quso, wanted in connection with the October 2000 bombing of the USS Cole in Yemen, which killed 17 US sailors; Adam Yahihe Gadahn, sought for providing "material support, comfort and aid" to al-Qaida; and Abdul Rahman Yasin, indicted in the 1993 bombing of the New York World Trade Centre.

The FBI's hope, it seems, was that the terrorist list would have the same mobilising effect on the US public as the original 10 Most Wanted, first launched on 14 March 1950 after the FBI director, J Edgar Hoover, spotted the potential of the publicity generated by a news agency story profiling the "toughest guys" the bureau would like to capture. The first person placed on the list was Thomas James Holden, wanted for the murder of his wife, her brother and her stepbrother. Down the years it has also featured the likes of James Earl Ray, the prime suspect in the assassination of Martin Luther King; the infamous serial killer Ted Bundy; and (briefly) civil rights activist Angela Davis.

According to the FBI, 494 fugitives have figured on its 10 Most Wanted list, and 464 have been captured or at least or located, 152 of them with the help of the public. Priorities have changed over time, the agency says. In the 50s, the list was "primarily comprised of bank robbers, burglars, and car thieves". In the radical 60s, "the list reflected the revolutionaries of the times, with destruction of government property, sabotage, and kidnapping dominating". The 70s were overwhelmingly about organised crime, and in the 80s and 90s the 10 Most Wanted began to include suspected international terrorists as well. In more recent years, common crimes have included rape and other sexual abuse, crimes against children, white-collar crime, gang violence and drug trafficking.

Maintaining such a list on a global scale has obvious pitfalls. Interpol, the international police organisation, makes no attempt to prioritise. The 321 criminals who currently feature on its website range from an Australian kidnapper to an Argentinian counterfeiter.

(In Britain, rather more prosaically, Crimestoppers UK's 10 Most Wanted includes one John Levy, wanted for "driving off from a petrol station without paying for £51 worth of diesel".)

Since 2008, the US business magazine Forbes has published a list of The World's 10 Most Wanted Fugitives, compiled in consultation with law enforcement agencies internationally (see below). Its criteria, the magazine says, are that fugitives have been criminally indicted or charged in national jurisdictions or by an international tribunal, stand accused of "a long history of committing serious crimes", and are "still considered dangerous". In addition, each is said to represent "a type of criminal problem with which legal institutions in diverse jurisdictions are grappling". It also ranks its candidates from one to 10.

Described as "armed, dangerous and very tough to catch – the world's worst thieves and thugs who have eluded local police, armies and international organisations for years", Forbes's most recent list was topped by Bin Laden. It also includes Semion Mogilevich, "the face of Russian organised crime"; Joaquin Guzman, "Mexico's most notorious drug trafficker"; Dawood Ibrahim, "India's most wanted man"; Italian mafia boss Matteo Messina Denaro; Rwandan businessman (and alleged genocide financier) Felicien Kabuga; Joseph Kony of the brutal Lord's Resistance Army; and James L Bulger, a Boston mobster wanted in connection with up to 19 murders.

But the list is disputable. Britain, for example, would probably quite like to see Andrei Lugovoi, the former KGB operative wanted for the murder by plutonium poisoning of Alexander Litvinenko in 2006, somewhere on a list of this kind (although he hasn't been charged). Augustin Bizimana, likewise, is the most senior of the 12 or so people wanted for genocide by the UN International Criminal Tribunal for Rwanda not to have been apprehended; the former defence minister faces charges over the massacre of 800,000 Tutsis and moderate Hutus in 1994. Some might like to see the name of Omar Hassan al-Bashir, the Sudanese dictator seen as responsible for ethnic cleansing that has left 300,000 dead and 2.5 million homeless in Darfur and the first sitting head of state ever indicted by the International Criminal Court. And what of Ratko Mladic, the Bosnian Serb army chief indicted for genocide in The Hague in 1995? He's still out there, laughing.

So who will replace Bin Laden for the list-makers? It seems logical he could make way on Forbes's list to last year's runner-up, Guzman. The FBI's Most Wanted Terrorist list will simply shrink; Bin Laden's name will not be substituted. But on the Top 10 Most Wanted, the jury's out. Some reckon Zawahiri is a shoo-in; other favour the Libyan, Anas al-Liby, or the Egyptian Saif al-Adel, both allegedly implicated in the east African embassy bombings. Adan el Shukrijumah, a Saudi citizen suspected of planning to attack the New York subway in 2009, and Yasin, wanted in the 1993 World Trade Centre bombing, are also mentioned. But, some observers say, Bin Laden's replacement on America's 10 Most Wanted could be an altogether less rarefied species of lowlife: a white-collar criminal, say, or a bank robber. Ultimately, such lists are always going to be subjective.
The Guardian