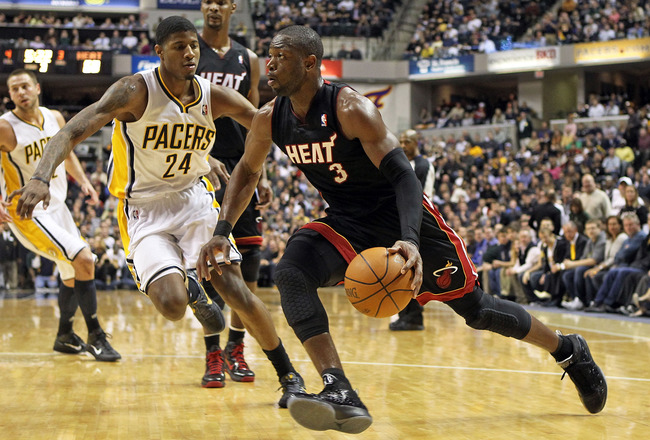 The Indiana Pacers failed to take advantage of Miami Heat forward Chris Bosh's absence in the second half Sunday, committed far too many fouls and wasted a grand chance to steal Game 1 on the road.

With Bosh unable to play the third and fourth quarters with a lower abdominal strain, Heat forward LeBron James overcame a slow start and guard Dwayne Wade scored 29 points, helping Miami to a 95-86 Game 1 victory in their Eastern Conference semifinal series.

James, who got his MVP trophy from NBA Commissioner David Stern before the game, had 26 points in the second half, 16 in the fourth quarter and finished with 32 points, 15 rebounds and five assists — MVP numbers in a playoff game.

The Heat trailed for much of the first half, weren't particularly inspired for stretches and missed all six three-point attempts. Whether the Heat were lucky or not is irrelevant.

What matters is this: they won, their 13th consecutive Eastern Conference playoff home victory and have a 1-0 series lead, with Game 2 on Tuesday (7 p.m. ET, TNT).

Bosh's loss didn't hurt Miami as badly as it could have. He had 13 points and five rebounds in the first half.

He got hurt when he was fouled by Pacers center Roy Hibbert with 1:06 left in the second quarter. Bosh converted the dunk then fell to floor after Hibbert fouled him. He got up gingerly, favoring what looked like his left leg, and made his free throw.

Twenty-three seconds later, after James grabbed a rebound on Hibbert's missed shot, Bosh went to the ground again. The Heat called a timeout so they could sub out Bosh, who went straight to the locker room with 43.6 seconds left in the half.

"It's unfortunate Chris went down," Wade said. "We went back (to the locker room) and told him we got it."

Backup centers Joel Anthony and Ronny Turiaf combined for nine points and seven rebounds in the second half — about what the Heat expect from Bosh.

Parts of the game went as well as the underdog Pacers could have scripted. They led at halftime and received great production from the bench, which scored 29 points.

Power forward David West and center Roy Hibbert each had 17 points and combined for 23 rebounds, winning the battle in the low post, which was expected.

"It's going to be a tough series," Wade said, "but we're up for it."

But forward Danny Granger and guard-forward Paul George were scoreless in the first half, and the Pacers were in foul trouble from the first quarter on.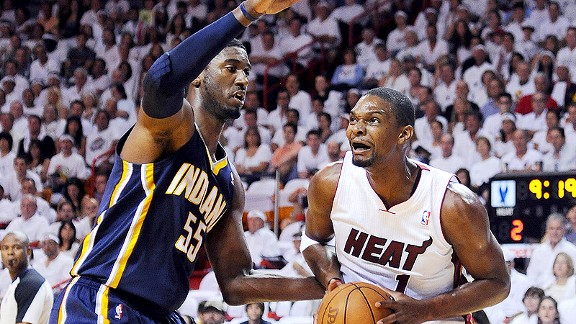 That wasn't a surprise. The Pacers were one of the most foul-prone teams in the NBA this season, committing 21.7 fouls per game, third highest in the league.

Miami made a living at the line, converting 29-of-38 free throws. Wade made 13-of-14.

James started out slowly, making just 3-of-9 shots in the first half. But with Bosh out, James made sure the Heat weren't going to lose Game 1.

James came to play in the fourth quarter on offense and defense. One of the game's best defenders, James checked West for much of the fourth quarter, holding him to just two points in the final quarter.

Miami played outstanding defense in the second half, holding Indiana to 29.7% shooting from the floor.

"Defensively, we stepped up," James said. "We know we get stops, the better the opportunity to get a win.