Russian President, Vladimir Putin is undoubtedly a combination of all the good and bad guys in Hollywood.
Over the last decade since he has been in a position of power in Russia, we have seen him doing some pretty crazy things that one wouldn't usually imagine of a president. From riding shirtless on a horse to flying a delta plane; Putin surely knows how to make headlines.
While he is often ridiculed and seen as a source of embarrassment for Russia, he is also lauded for his sense of adventure and bizarre stunts.
This former KGB spy, in charge of the entire Eastern Bloc is no lesser than 007 James Bond. He is a man of many talents and is full of character.
Here are some of his finest moments. We can bet that other world leaders envy him.
1: He couldn't care less.
2: Putin knows how to tackle a difficult situation smartly.
3: He can karate-chop your **s.
4: Knows how to almost NOT hit a priest while shaking hands.
5: Putin would be great with kids. He can make a toy out of a balloon.
6: He can shake it.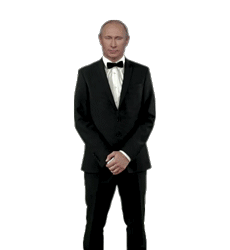 7: He has a million dollar 'bluphhh' expression.
8: He connects with animals.
9: He can pull of any stunt.
10: He can shoot with style.
And if that's not enough, did you know that Putin can also play piano and sing?
He is oh-so-talented.
Read More: The Adventurous World Of Vladimir Putin In Photos
Carbonated.TV