Nothing brightens someone's day quite like a kiss – from a llama. Meet Rojo the llama and Napoleon the alpaca, beloved therapy animals in Portland, Oregon.
When Lori Gregory and her daughter Shannon bought their first llama, Rojo, they had no idea he would impact so many lives. They were just looking for a grazing animal to help trim the grass in their large yard. At the llama farm, four-month-old Rojo stood out, with his plush red coat, friendly personality, and gentle manners.
Llama therapy: Let a llama take your troubles away in Portland https://t.co/IE1muh6vq8 pic.twitter.com/bA7MLxzTDx

— CNN Health (@cnnhealth) March 14, 2016
Rojo's people skills inspired Lori and Shannon to take him for walks along the streets of Portland, dressed in whimsical costumes. Strangers gravitated toward him, smiling, laughing, and burying their hands in his luxurious, thick fur.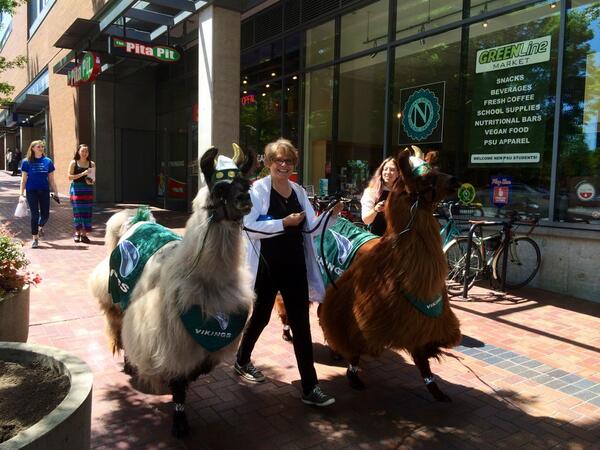 When they saw how happy the llama made people, Lori and Shannon they decided to register him as a therapy animal. They began taking him to hospitals, nursing homes, and events for children with special needs. Rojo was a hit!
In an interview with CNN, Lori describes their first hospital visit:
"As [Shannon] would take him in along the bedsides, I would hear them getting so excited. They said 'Wow, Herald hasn't spoken in a month and I heard him say he's cute!' or, 'Look, Helen is trying to sit up and she hasn't moved for weeks.' Every room we were going in to, it was like seeing miracles happen."
Their lives would never be the same.
Now, eight years and over 1,000 llama visits later, the mother and daughter have their own non-profit, Mountain Peaks Therapy Llamas and Alpacas. They keep four llamas and four alpacas. Nearly every day, they take their therapy animals somewhere to cheer up people in need.
Read More: Kangaroo Helps Special Needs Girl
Mayo Clinic studies affirm the health benefits of therapy animals, which can ameliorate symptoms like depression, anxiety, and chronic pain. Therapy dogs are far more common, but Rojo and his hoofed friends are a special, unusual treat for those they visit.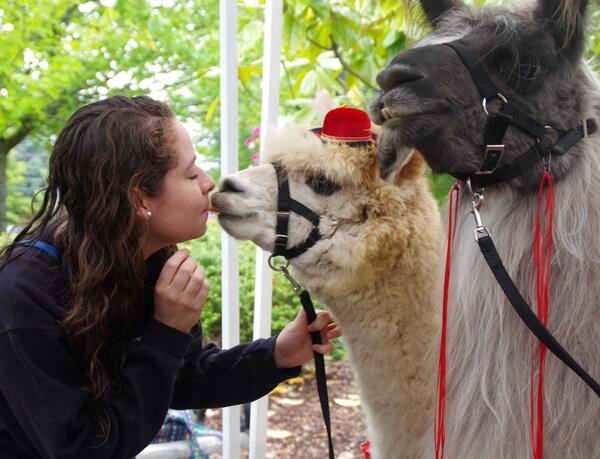 Shannon and Lori describe one of the llamas' most popular tricks – carrot kisses. They distribute carrot sticks to bold people who want to get up close and personal with the animals. People hold the carrots in their mouths, with half sticking out, and the llamas come nip off the other end. It's like getting a llama kiss!
Read More: Llama Drama 2015: Two Escaped Llamas Captivate The Nation
Rojo and his family enjoy brightening people's days. As Lori told CNN, "Everybody just needs a little happiness and joy in unexpected places."
Banner Image Credit: Twitter @O_Magazine
Thumbnail Image Credit: Twitter @no_facku
Carbonated.TV