A United States Army veteran was humiliated at Chili's on Veterans Day when he had his free meal taken because he was accused of not really being a vet.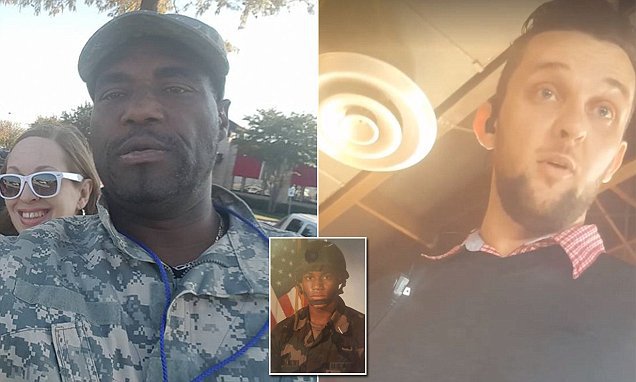 Coming off the heels of Veterans Day, a video clip went viral over the weekend showing a United States Army vet being humiliated at a Chili's restaurant in Cedar Hill, Texas.
Chili's offered free meals to vets and active military service members on Friday — as many restaurants and businesses do — in honor of Veterans Day.
Retired Army vet Ernest Walker posted a video recording of the local Chili's manager snatching his meal away after some other diners questioned his military service.
Walker detailed the incident on Facebook, writing that he was eating with his service dog Barack when an elderly customer wearing a Donald Trump shirt approached him. "He said he was in Germany, and that they did not let Blacks serve over there," Walker recounted.
Following that encounter, Walker said the restaurant manager went up to him and told him that a customer claimed that he was "not a real solider because he had his hat on indoors," The Huffington Post reports.
Ernest Walker--Army vet--says he's embarrassed, insulted for having to keep proving his service after incident at @Chilis on Veterans Day pic.twitter.com/83ybozassg

— Homa Bash (@HomaBashNBC5) November 13, 2016
The manager questioned Walker and asked to see his identification; however, even after Walker presented his military ID and discharge documents, the manager took his food away.
Since Walker posted the clip, it has been viewed more than 50,000 times with many commenters expressing outrage at the mistreatment he received and calling for the manager to be terminated.
Walker said the ordeal made him feel "grossly offended, embarrassed, and dehumanized."
In solidarity with Walker, protesters assembled outside of the restaurant where the incident took place.
After receiving backlash, Chili's apologized in a statement, claiming they would be reaching out to Walker directly, however, as of Sunday he claims he hasn't heard from the company, according to The Huffington Post.
"I do believe that the election has changed the hearts and changed the motives of people so much so that he believed in his heart and mind after talking to the Trump supporter that I was stealing food," Walker said.
The manager should have never questioned Walker's service in the first place because he had no grounds to do so. He acted on the suspicions of another customer, which is hardly a reliable source.
Furthermore, his harshness even after seeing Walker's documentation indicates that the issue became personal and was no longer just about whether or not Walker was really a military veteran.
The company needs to do everything in its power to right this wrong, beginning with firing the Cedar Hill location manager.
Banner Photo Credit: Twitter @Local12
Carbonated.TV