GOP Congressman Carlos Curbelo says that he refuses to support Republican presidential front-runner Donald Trump — to the point where he might vote for Hillary Clinton.
Republican Congressman Carlos Curbelo says that he will never vote for Republican presidential front-runner Donald Trump, so does that mean that he would vote for Democratic front-runner Hillary Clinton, should it come to that?
During a few interviews, including one that he did with CBS4 Miami, Curbelo suggests that he would (even though he believes she is "flawed" like Trump).
"I think both Donald Trump and Mrs. Clinton are flawed candidates. If you look at the polls, the majority of Americans have negative views on both of them," Curbelo told a CBS4's Jim DeFede. "So I am going to wait and see what happens on our side. But I have already said I will not support Mr. Trump. That's not a political decision; it is a moral decision."
When asked if that meant he would vote for Hillary, he responded vaguely: "Not necessarily."
The reporter continued to press Curbelo, saying that many people have said they heard him talking about voting for Hillary — going so far as to show Curbelo a post someone wrote on Facebook (along with a picture of the two together) that said he had told her he would vote for Hillary over Trump any day.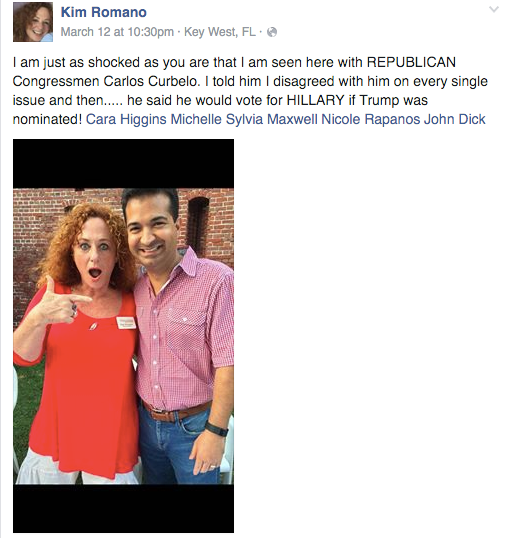 "I am just as shocked as you that I am seen here with REPUBLICAN Congressman Carlos Curbelo. I told him that I disagreed with him on every single issue and then… he said he would vote for Hillary if Trump was nominated!"
Curbelo, however, simply brushed it off, saying that he simply would not support Trump.
"What I told Kim ... a lot of Republicans, Republicans that I know, would vote for Hillary Clinton instead of Donald Trump," he said. "What I have said publicly, over and over again to the media, is that I will not support Mr. Trump under any circumstances."
Check out some of the interview below:
Despite evidence of his support for Hillary over Trump, Curbelo quickly took back his remarks, posting his displeasure on Facebook.
"Dear friends, just to dispel a rumor started by a misleading news story, I have no intention of supporting either of the candidates currently leading in the delegate count of each respective party," he wrote. "I believe that delegates at the Republican Convention will have the option of nominating the best candidate for President, and I'm hopeful that they will make a good choice - someone my family can proudly support."
Seems he likes to flip-flop as much as Hillary!
Banner / Thumbnail : Reuters
Carbonated.TV