A Cleveland Indians baseball fan was blasted on Twitter after attending Game 2 of the World Series wearing a stereotypical Native American costume.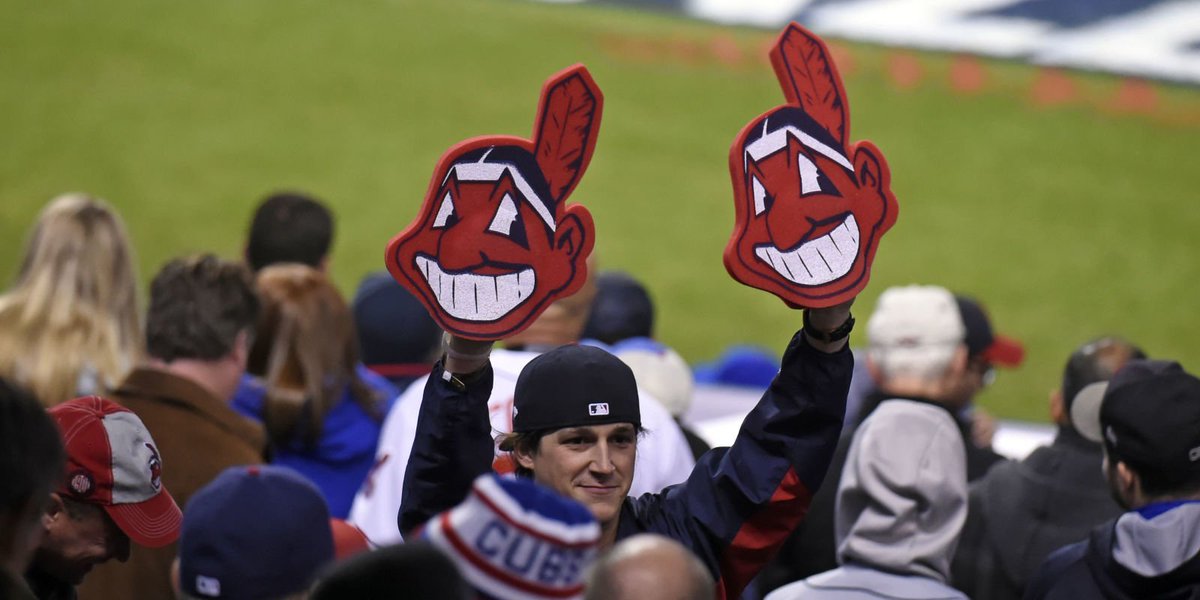 The World Series is officially underway with a historical matchup between the Chicago Cubs and the Cleveland Indians.
Fans of both teams are treating the event like the Holy Grail as neither team has been to the championship in decades.
During Game 2 of the series Wednesday night, attention shifted from the baseball diamond to the stands due to one overly eager fan's offensive costume.
An Indians fan went viral after photos surfaced of him wearing elaborate face paint and a traditional Native American war bonnet to the game.
According to Mic, he was initially spotted by Fox Sports. The network cut to an image of him during their broadcast as he looked on with a melancholy expression at the sight of his team losing.
However, no one seemed to care about his sadness. Instead, social media dragged the fan for wearing such an overtly insensitive and racist outfit.
Way to capture the inherent patheticness and tastelessness of sports-fandom-redface, Random Sad Indians Fan. https://t.co/EcC4QVuAxt

— Jared Dunn (@jddunn) October 27, 2016
Makes me sick to see an 'Indians' fan don a Native American war bonnet & face paint. #NOTyourMASCOT #WorldSeries @MLBONFOX please! ?? pic.twitter.com/7i0JSsKucH

— Clarice Lakota (@ThunderBirdEye9) October 27, 2016
If this pathetic fan doesn't motivate the #Indians to change their racist name... nothing will #WorldSeries pic.twitter.com/lzXoU0k2iZ

— Andrew Woolley (@AWoolley42) October 27, 2016
tfw yr racist and yr team is losing pic.twitter.com/a8NMsCVCON

— Bill Baer (@Baer_Bill) October 27, 2016
Sports teams with names and logos that demean Native Americans such as the Cleveland Indians and the Washington Redskins NFL team have been a source of controversy for many years.
Activists have called for the removal of these offensive mascots, but change has yet to be seen.
Since the professional sports world refuses to quit mocking Indigenous culture, it has inadvertently given fans the green light to do the same.
Indigenous peoples and people of color try diligently to make society understand that their cultures are not fodder for dressup, particularly around Halloween when offensive costumes fly off the shelves. This Indians fan, however, must not have gotten the memo.
It's okay to be a diehard fan of your favorite team and show excitement for them making it to the World Series, but this is not an acceptable way to express enthusiasm.
Hopefully the backlash from this incident will motivate Major League Baseball officials to consider dropping the name and mascot that made this man think his attire was acceptable.
Banner Photo Credit: Twitter @Deadspin
Carbonated.TV