San Francisco 49ers quarterback Colin Kaepernick was spotted wearing anti-police socks at practice, creating more drama following his National Anthem protest.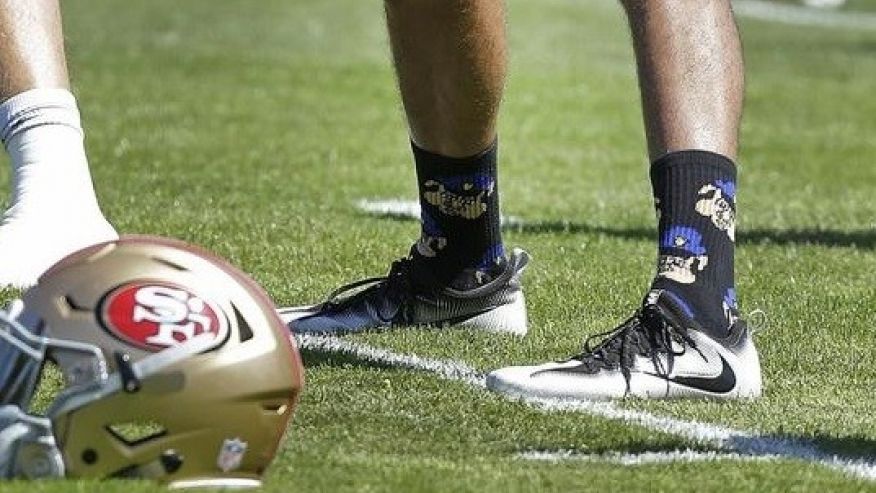 As the San Francisco 49ers are gearing up to play the San Diego Chargers on Thursday, quarterback Colin Kaepernick is at the center of yet another controversy.
The athlete blew up in national news headlines last week after he remained seated during the National Anthem in protest against how African-Americans and minorities are treated in the United States.
The former star quarterback has caught attention again as photos began to circulate of socks he wore to multiple practices that depict animations of cops as pigs.
Colin Kaepernick sporting his anti-police socks since August 10th at training camp. #NationalAnthem pic.twitter.com/scobHPXCDK

— Robb Ware (@robbware) August 29, 2016
Kaepernick's refusal to acknowledge the National Anthem was deemed disrespectful by a multitude of NFL officials, politicians, members of law enforcement, and fellow professional athletes.
However, for every negative or critical response he received, there were twice as many supportive remarks to follow.
The hashtag #VeteransForKaepernick began trending earlier in the week with service men and women expressing solidarity for his choice to exercise the rights that they fight for him to have.
The socks were initially thought to be another action related to his protest. Kaepernick shut down those rumors by explaining in an Instagram post that he had been wearing those socks prior to his decision to make a public political statement.
On the surface, the motivation behind Kaepernick's actions seems noble, but the more trouble he stirs is making some wonder if this is all just a ploy to get himself cut from the team.
@JohnMiddlekauff @Phil_Lewis_ Duh. His 11mil+ is guaranteed and he played his way into a back role to Blaine Frickin Gabbert hahaha

— Tony Dean (@TonyDeanHB) September 1, 2016
@JohnMiddlekauff @Nader723 @Phil_Lewis_ it sure looks that way

— Jeff D (@JeffroD79) September 1, 2016
@JohnMiddlekauff that was my original thought when he created the National Anthem controversy

— steven a (@bergs101) September 1, 2016
@JohnMiddlekauff he's quitting football and needs an excuse.

— Niner Time (@N1nerT1me) September 1, 2016
He has had a tumultuous relationship with the 49er organization since being demoted from starting quarterback to back-up after a really rocky season last year.
According to the official NFL website, he requested a trade last spring that never went through and he has spent a large portion of the off-season rehabilitating from surgeries to his left shoulder, hand, and knee.
Undergoing the operations and subsequent recovery has created quite a setback for the footballer's chances of getting his starting position back.
Although head coach, Chip Kelly, previously said there hasn't been any talk about cutting him, it hasn't halted speculations that Kaepernick wants to create distractions in an effort to force the team to let him go.
If this conspiracy theory is, indeed, Kaepernick's plan, it's extremely disappointing that he would selfishly exploit the very real racial tensions and issues that are affecting minorities' lives in the United States.
Regardless of what comes next for his career, he has started something that everyone expects him to stick to. Otherwise, he will look like nothing more than a hypocrite.
Furthermore, it wouldn't be a wise career move to use racial tensions to get cut from the 49ers, because he would just earn the reputation of being a troublemaker and no other team would touch him.
If he's risking his entire livelihood with these protests, it better be for the right reasons.
Banner Photo Credit: Twitter @ShaunKing, @BleacherReport
Carbonated.TV