A random man was found climbing up the side of Manhattan's Trump Tower on Wednesday, pulling himself up several stories using large suction cups.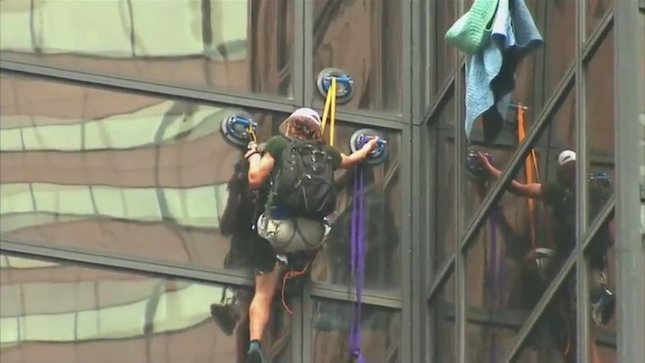 Update: Stephen Rogata, the 19-year-old who climbed the Trump Tower, has been charged with first-degree reckless endangerment as well as third-degree criminal trespassing, Midtown Manhattan Patch reported.
The reckless endangerment charge is a felony and could land Rogata in prison for up to seven years.
---
The man who dangerously scaled the Trump Tower supposedly executed the reckless stunt because he is a Trump supporter and wanted to have a conversation with the Republican presidential candidate.
The climber, who reportedly told officials his name is Steve and that he is from Virginia, apparently uploaded a video message on Tuesday entitled "Message to Mr. Trump (why I climbed your tower)" explaining his reasoning for climbing the Manhattan skyscraper.
"I'm an independent researcher seeking a private audience with you to discuss an important matter," The man says in the video." The reason I climbed your tower was to get your attention. If I sought this via conventional means, I would be much less likely to have success, because you are a busy man with many responsibilities."
"As for anyone else who's watching," the man adds, "please help this video go viral so that it gets to Mr. Trump and be sure to get out and vote for Mr. Trump in the 2016 election."
---
A man was spotted scaling the all-glass frame of Manhattan's Trump Tower on Wednesday evening using large suction cups, according to the Associated Press.
The man, who was sporting a backpack and baseball cap, used a harness and rope stirrups to secure himself to the 58-story building.
By Wednesday evening, he had made it up about 21 stories.
The New York City tower is not only Donald Trump's campaign and business headquarters, but it is also his home.
Trump was all the way in Virginia when the bizarre incident took place, so there was no direct threat to him, but was still not a situation to take lightly.
Initially, there was no telling what the climber's intentions were, so police diligently tried stopping him by smashing windows and breaking through a ventilation duct attempting to block him.
The man was no easy catch as he stealthily eluded the officers by making his way around angled corners.
RT @CNBCnow: WATCH: A man is scaling the side of Trump Tower in NYC using suction cups https://t.co/6alD7mKMyh pic.twitter.com/GTd37bUYSw

— Joe Polek (@JoePolekNews) August 10, 2016
The officers reportedly spoke to him through holes cut on the side of the building. At one point, rescuers smashed a window above the man and he had to duck to avoid getting hit with falling shards of glass.
According to the AP, officers placed crash pads on the scene but didn't try to grab him when he passed. After an hours-long standoff, cops eventually grabbed the man and pulled him into the building.
Thanks for the entertainment, Steve. https://t.co/aQnAq63gSR

— JT Street (@ThatJTStreet) August 10, 2016
One NYPD official maintained the climber had no malicious intentions: "This is clearly a stunt guy," he said. "The guy doesn't appear to be here to do anything evil," ABC News reports.
The Trump campaign has yet to comment on the incident, but Michael Cohen — Trump Organization EVP — said in a statement that,
"This man performed a ridiculous and dangerous stunt. There's damage to the building and he caused the unnecessary deployment of New York's finest to protect his safety and the safety of everyone in the building. He's caused the shutdown of traffic on Fifth Avenue. I'm 100 percent certain the NYPD had better things to do. If Mr. Trump were here he'd be thanking law enforcement for the job they're doing."
Despite the fact that there appears to have been no harm intended by this stunt, Trump may want to beef up his secret service detail after this.
Banner Photo Credit: Twitter @TDougNews
Carbonated.TV