In an effort to contextualize the rise of Islamophobia, Azzah Sultan has captured people's attention through her impressive and beautiful works of art.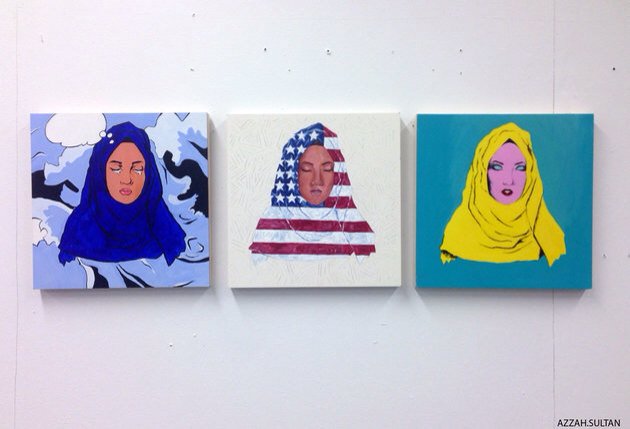 20-year-old Siti Azzah Binti Syed Sultan recently spoke with ThinkProgress to talk about her recent art work, explaining her thoughts on Islamophobia in America and how it has impacted her life, her art, and her family.
Sultan is originally from Malaysia, but she moved to New York when she was 16 years old so that she could join the Fine Arts at Parsons The New School of Design, where she is currently a senior. She explains that she has a very unique perspective on the world considering she has moved from country to country since she was very young.
When asked why she has decided to speak about politics through her art, Sultan responded:
"Throughout history you see people using art as a way or tool to voice their opinions about their social environment and issues that surround them. Art is always a critique on something, and that itself makes it political. I use art as a way to voice my own opinions on issues and struggles that Muslims face within a western society, as it has direct effects on me as a Muslim."
She also explains that when she moved to America, she didn't move with her family—she was here alone, out of her comfort zone, attempting to find a safe place to practice her religion.
"I did feel somewhat alienated," she said. "I started to realize that my faith was the only thing that I could hold on to feel secure."
She started incorporating her religion into her work, explaining that it was something that molded her into the person she is today, so it's an integral part of her identity. Being away from her family and her safety net meant that she had to equip herself with more knowledge about her religion, allowing her to better "correct the misnomers on the understanding of Islam by non-Muslims."
When asked about her inspiration, Sultan explained that during this heightened period of Islamophobia in the United States, "Muslims felt and are still feeling a sense of displacement in terms of their belonging here in the United States." She said that she wants to play a "humble role in pointing out these issues and contextualizing them within my expression world of art."
"I use my own personal experiences of being Muslim in America, as well as the general stereotypes of how we are viewed," she continued. "Part of my art work looks at certain world events that have contributed to the rise of Islamophobia."
Check out her website for more beautiful works of art!
Banner Image Credit: Tumblr user Azzahsultan
Carbonated.TV