In the wake of election chaos, a high school teacher posted an empowering note outside of his classroom reminding his students that they are loved.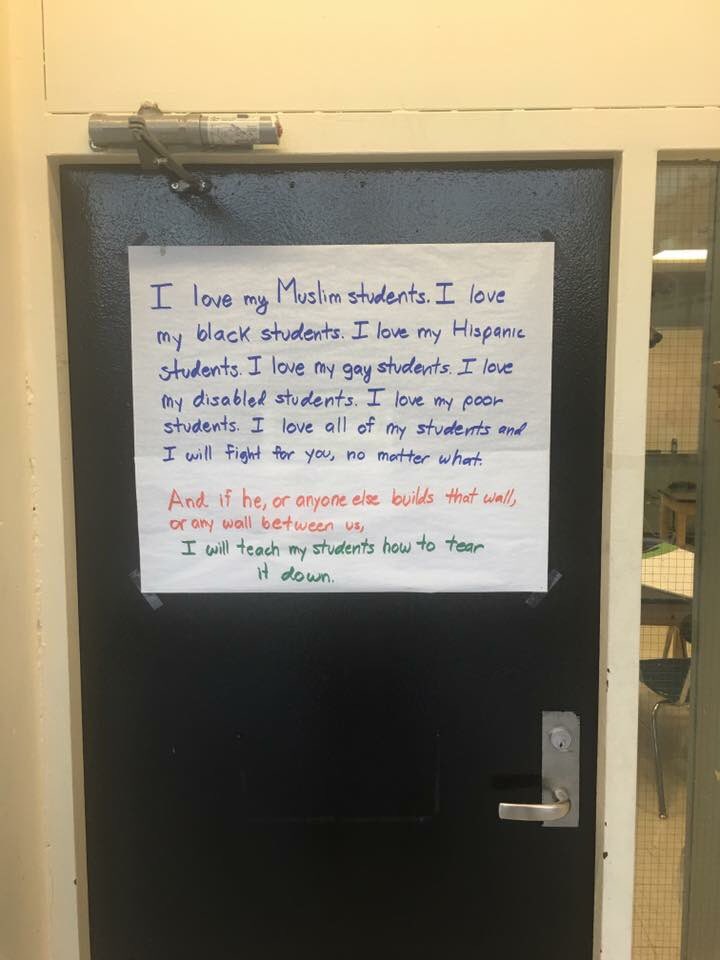 In the days since Donald Trump was elected president, we've seen an influx of hate crimes and vicious threats against minorities, Muslims, and LGBT Americans.
Despite the fact that Trump has disavowed his white supremacist followers and asked his racist supporters to "stop it," he is responsible for the division that we are witnessing by way of his toxic presidential campaign.
Trump ignited a hateful flame with his anti-Muslim and anti-immigrant rhetoric. He also added to the problems black Americans have been facing by denouncing Black Lives Matter and painting the movement as some kind of domestic terrorist group that needs to be federally investigated.
Along the campaign trail he insulted every marginalized group, including the disabled, which prompted his supporters to feel justified in doing the same. This validation has only grown stronger since Trump clinched the presidency last week.
Thankfully, there is still love and inclusiveness to be found in this country. A New York City teacher made sure his students knew his classroom was a safe space for them with a touching note he posted outside of his classroom door. The message reads:
"I love my Muslim students. I love my black students. I love my Hispanic students. I love my gay students. I love my disabled students. I love my poor students. I love all of my students and I will fight for you, no matter what.
And if he, or anyone else builds that wall, or any wall between us,
I will teach my students how to tear it down."
Twitter user Micah Sifry shared a photo of the classroom door, noting that his dear friend is the awesome teacher who wrote it.
A dear old friend who is an NYC high school teacher posted this on his door at school today. pic.twitter.com/P2oMt6w05v

— (((Micah Sifry))) (@Mlsif) November 14, 2016
The response to Sifry's post was mostly positive, with many thanking him for sharing and hailing his friend as "teacher of the year."
@Mlsif This teacher shows us the best of America.

— Anna Maltese (@MalteseAnna) November 15, 2016
@Mlsif What a great teacher. I love this so much.

— Marisa Elana James (@MarisaElana) November 15, 2016
@Mlsif please thank him for including students with disabilities

— Carly Medosch (@CarlyRM) November 15, 2016
@Mlsif @StacyStrazis weeping. #love #peace #diversity

— Diane Roberts (@DianesTalking) November 15, 2016
@Mlsif teacher of the year!!

— Clara Chouinard (@clarachouinard) November 15, 2016
There were, of course, those who decided to respond with negativity and question why white students were not included in the message.
Other Twitter users quickly clarified that the rights and safety of able-bodied white students have not been threatened by Trump's rhetoric and therefore don't need the same reassurance.
But, that goes without saying. Some folks just seem to really enjoy playing devil's advocate.
@MintyTramp no one in power is threatening their rights or identities right now

— (((Micah Sifry))) (@Mlsif) November 14, 2016
@ai_icus @Mlsif @YourAnonNews Trump didn't attack White people so White kids don't need to be reassured and made to feel safe.

— Kevin A. Garnett (@Garnettish) November 15, 2016
@GT817_Glenn @Mlsif @Anon2earth the greatest number of illegal immigrants ever and by far are Europeans. 450m+ living outside Europe.

— ThisIsNotAGateway (@NotAGateway) November 14, 2016
Banner Photo Credit: Wikipedia, f_a_r_e_w_e_l_l
Carbonated.TV