A nine-year-old was sad that her military father couldn't participate in her cheer routine with other dads, so a complete stranger came to the rescue.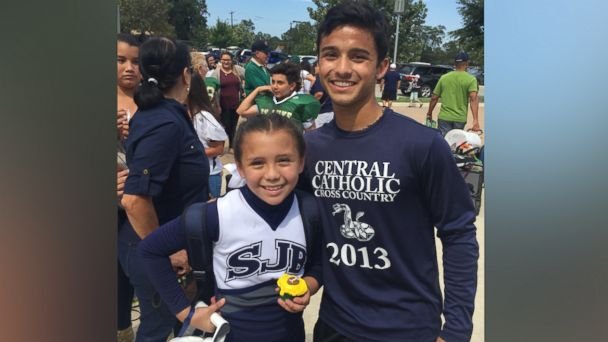 A Texas teen saved the day when a young cheerleader was faced with the reality of her dad's absence.
Fourth-grader Addie Rodriguez was performing a cheer routine with her squad at a Central Catholic High School football game in San Antonio, Texas. A section of the cheer incorporated the squad's fathers joining their daughters on the field and lifting them onto their shoulders.
"Mom missed the memo it was parent day, and the reason her mom missed the memo was her dad left Wednesday," said Alexis Perry-Rodriguez, Addie's mother.
Rodriguez's father was not present because he's an airman who is currently training in California at Travis Air Force Base.
"It was really heartbreaking to see your daughter standing out there being the only one without their father, knowing why he's away. It's not just an absentee parent. He's serving our country," Rodriguez's mother told local reporters.
Upon realizing that she was the only cheerleader standing solo, Rodriguez began to cry, until Matthew Garcia — a senior at Central Catholic High — came to the rescue.
He noticed that Rodriguez was left out, so he ran down from the bleachers and hopped a fence to comfort her and lift her onto his shoulders.
"I just felt like somebody saved my life. I thought that's so nice, especially since my dad's serving for us," Rodriguez said.
Garcia's quick response to seeing Rodriguez in distress was both noble and kind. Events and activities involving a specific parent can be difficult because not all family structures are the same.
It's very easy for a child to feel excluded and embarrassed if their household doesn't consist of the conventional two-parent dynamic.
A similar incident occurred just months ago when a single mother supported her son by dressing up as his "dad" so that the pair could attend a school event together called "Donuts with Dad."
In theory, it's nice for schools and organizations to celebrate the traditional parental roles by dedicating events to mothers and fathers respectively, but there should be a more conscious effort to include children from unconventional households.
Despite flawed planning on behalf of Rodriguez's cheer coaching staff, the ordeal made for an uplifting story in the end with Garcia stepping up to support a complete stranger who needed comfort.
Banner Photo Credit: Twitter @goodnewsnetwork
Carbonated.TV